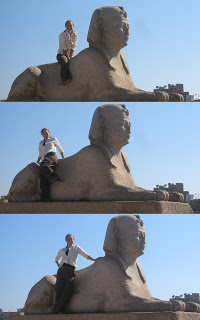 I was looking for some old 4th of July pictures from the summer I was in Egypt and was surprised by how fearless I look in all those photos. One set in particular—I'd just gotten over the flu in time to take a midnight train from Cairo to Alexandria. I wanted a photo of me on a stone sphinx near the ruins of Pompey's Pillar (erected in 293 for Roman Emperor Diocletian. Bad guy, really) so I hopped up. The guard yelled waved his machine gun for me to get off, so
I acted like I couldn't understand him, slid down the side, and posed for another photo leaning up against it with a huge grin. I want to be that fearless again. I set one of those photos as my computer background for inspiration.
What a wake-up call. I could almost smell some of the photos, it felt that close: roasted corn and jasmine and street funk. At what point in
the last five years did I become fearful? Is the fearfulness just a temporary pallor cast by that horrible sunny day in Morocco? Sitting in the second police station of the day while the fat man typity-typed on an ancient typewriter crammed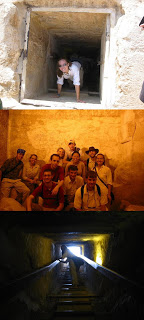 with five sheets of carbon paper for nearly an hour before asking for my name, while the only computer in the room was used to play solitaire (true story)? Yes, temporary travel fear definitely resulted from that. But even besides that, some part of that fearless smile closed off, and I
hadn't even realized.
Just before this unsettling discovery, though, I was already working toward a rebirth. I've always wanted to live overseas—probably ever since Egypt, actually—and Chr
is and I were blessed to get stationed near Tokyo after this unending
training. But every time someone would ask about it all I heard was whining and complaining—from me! About going exactly where I wanted to go! How ungrateful and petulant can I be, right??? Why wasn't I looking forward to it anymore?! The answer: FEAR. That's silly. This is no time to fear, I decided that night, driving home on the rain-slicked streets of Jacksonville. THIS IS A TIME TO BE FEARLESS!
I raise this blog po
st as an Ebenezer, a sign of conquering fear as the Israelites defeated the Philistines, a la 1 Samuel 7:12—"Samuel then took a stone and placed it between Mizpah and Jeshanah; he named it Ebenezer, explaining, 'To this point the LORD helped us.'"
Here in Jacksonville, the LORD helped us. We prayed for months before moving here that we would find an apartment, a church, friends, for these nine months to not go wasted. Is my faith weak enough that I would say, "To this point the LORD helped us…and He'll abandon us as soon as we move again."? So then, fearless faith is needed in this adventure as well. This is a time of answered prayer. This is a time to be fearless.