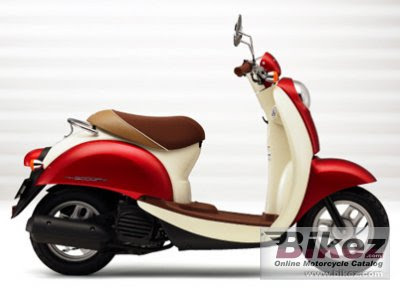 Chris and I filled out all the Japanese paperwork for this little baby last night!! That's right, years of dreaming of the perfect scooter, months of saving, getting lost in Yamato looking for Yamaha shops and all the bruises of motorcycle class have finally paid off—Chris is picking up my gently used Honda Scoopy May 1! The scooter shop down the street from us has only had boring scooters since we moved here. Then we stopped by just to check out another one Chris had seen while running by the shop and this shiny red Scoopy had just appeared.
It's about the weirdest experience to buy a vehicle in another language. The shop owner would say something and point to the paperwork, Chris and I would discuss possible translations, the shop assistant would translate a keyword on his cell phone, and soon all the paperwork was signed and I had a free helmet. Why free, you ask?? I was comparing the shiny red helmets to the shiny red scooter to find the best match. When I leaned over to get one off the bottom shelf I smacked my forehead hard on a bar holding up a shelf of scooters and bikes. I saw stars, everything went black, and suddenly I was sitting on the floor. Chris and the shop guys stared at me. "I really need a helmet," I said. When we bought the scooter the shop owner looked at the rising knot on my forehead and handed me the $120 shiniest helmet. "Present-o!" he said, then carefully wrote p-r-e-s-e-n-t on the receipt.
How cute is this scooter going to be scooting along the river to the flower shop, ikebana class, English lesses, etc.??