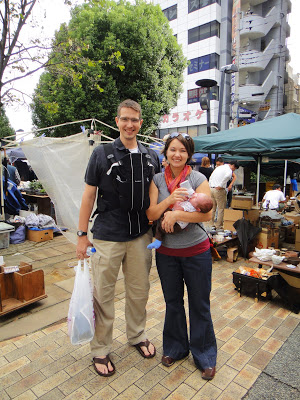 Chris and I silently sipped coffee in the tatami room while the baby took a morning nap. Two weeks ago we walked six miles with my mom to Hikichidai Park and back with no signs of labor. My, how two weeks will change your life. Chris straightened up suddenly. "Today is the Yamato Shrine Sale!" he said. "No, it's…ooh, you're right," I said. "I think we should go," said Chris. "It's our last chance, plus I want to try putting Isaac in the Bjorn." Ok, maybe every aspect of life doesn't change that much.
Isaac got to meet several of our friends, and I met some new obi and bowls. Chris met a new festival hapi coat. Lots of Japanese asked Chris how old Isaac is. Isaac started to cry and an older woman helpfully informed me he was hungry—by grabbing my boob. I am not making that up. Chris stared at me: "Did she just boob tap you?" I stood there mutely, stunned. I mean, I've heard of people getting
groped
on Japanese trains, and I've witnessed the lack of personal space around a baby belly. But come on, people—isn't it pretty much an international standard that the chest is off limits?!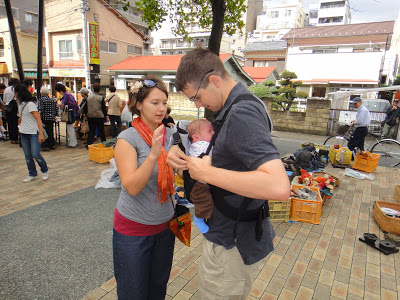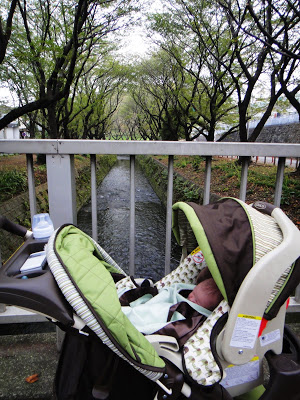 I took Isaac on his first stroll along the Hikichigawa a few days ago. We paused at the bridge where I take pictures, and I showed him the graveyard near our house that often smells sweet with incense. I like the fresh air and smiles we get on our walks, but I must admit it was a challenge to defend this tasty baby from all the vulturous mosquitoes.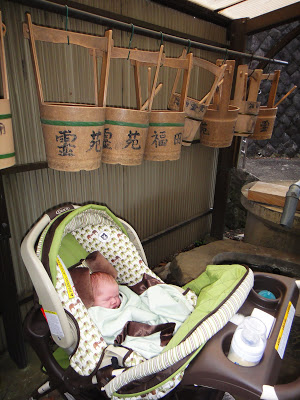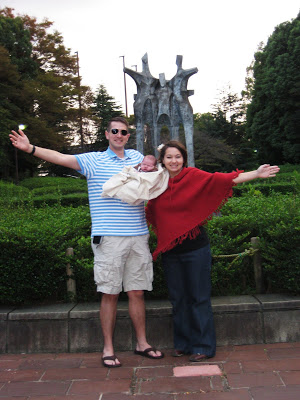 A week prior, last Thursday, was our first full day home from the hospital. My mom suggested driving over to Hikichidai Park and looping around part of the kilometer track to follow the doc's advise of walking as much as possible. I kind of hobbled along, stopping frequently to sit on the park's many benches. My mom snuggled Isaac and was on the receiving end of a knowing look and kind smile from an elderly Japanese man. "He just gave me the 'new grandbaby nod'!" she said.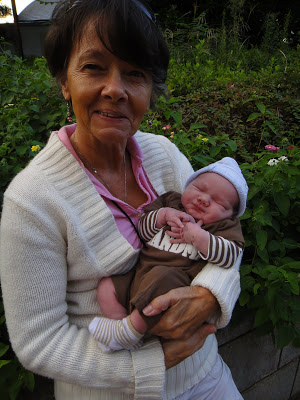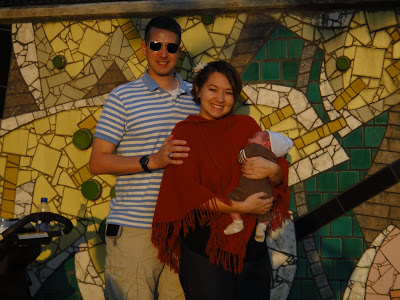 About a year ago I'd
driven the Scoop over to this park
by myself to look at the changing leaves. This year, I got to come with Chris, our brand new baby, and my mom!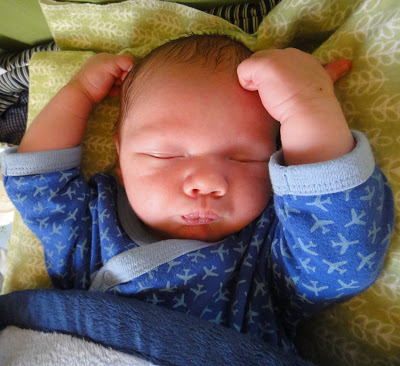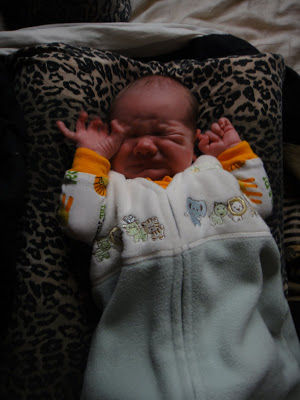 And speaking of brand new babies, will someone tell me why they sleep so peacefully during the day…ONLY? Not really; Isaac usually sleeps ok I guess, but when he turns into Mr. Fussypants it makes me so sad. Not to worry, our big day at his first shrine sale tuckered him out and he's now sleeping soundly in his bouncer.