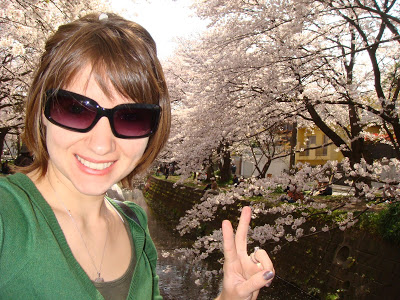 Good morning, please follow me to the cherry blossoms! …that is a petal on my head.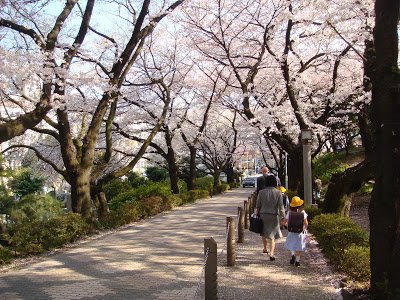 Our first stop in Tokyo is Aoyama Cemetery, near Tokyo Metro's Nogizaka Station. I dreamed up visions of cherry blossoms drooping over marble memorials Savannah-style but of course Aoyama is a Japanese-style cemetery with more stone lanterns (below) than angels. I find cemeteries very pleasant in general with just the right amount of spine-tingling, but Japanese cemeteries are full of cremated remains instead of skeletons, so the spook factor drops.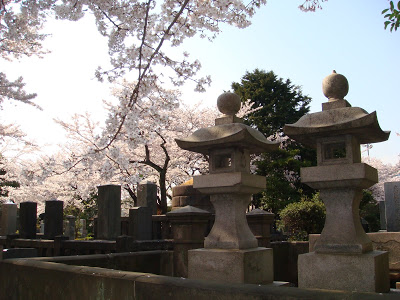 A lone cross marks the body of an Irishman who died in Tokyo just after World War I.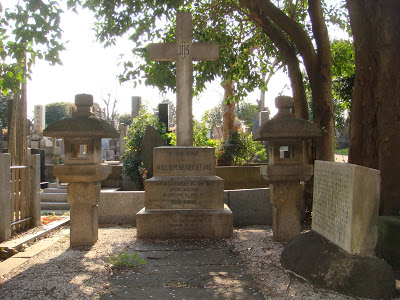 Our next Tokyo Cherry Blossom Tour Stop is Chidorigafuchi, the former Edo Castle moat running around the north end of the Imperial Palace (Tokyo Metro's Kudanshita Station) Kitanomaru Park has a cherry blossom lane overlooking the moat and the delightful rowboats gliding across the water…or spinning in circles…or stuck in the reeds. I want to try!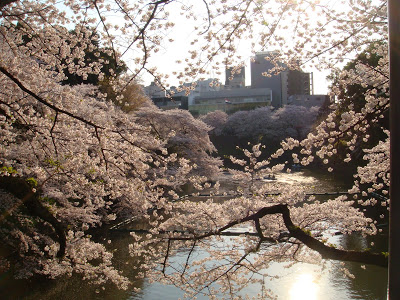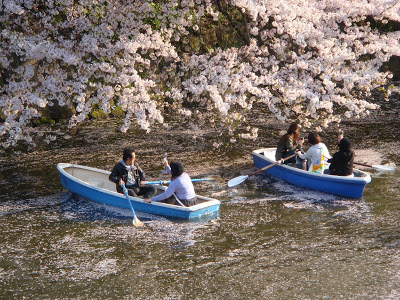 Crossing the street here takes us toward the food vendors leading up to the controversial Yasukuni Shrine. My calligraphy page from here looks like the cover of "The Art of War." Turns out the shrine commemorates and glorifies Japan's war dead—and the sometimes questionable causes they were engaged in. I can sort of see a need for something like that, but I can also see why people make a fuss when high-ranking officials in the Japanese Self Defense Force pay tribute. Regardless, it seems like a nice place to grab something to eat…but maybe not the grilled squid…. (Special note: Hannie! Thanks for that cute green sweater!)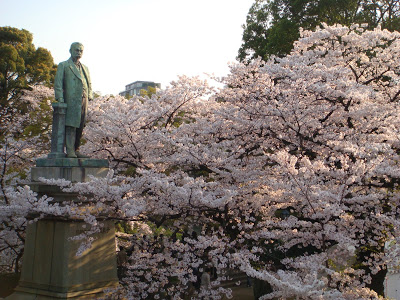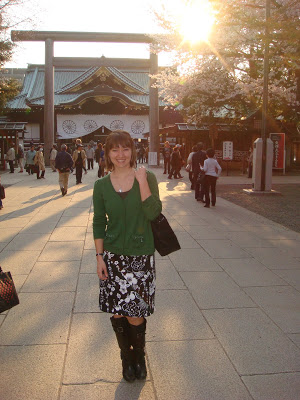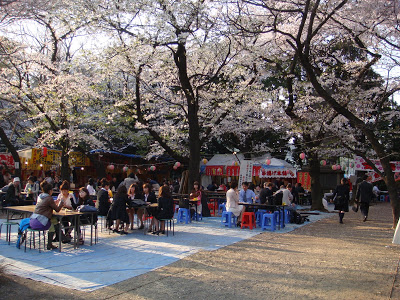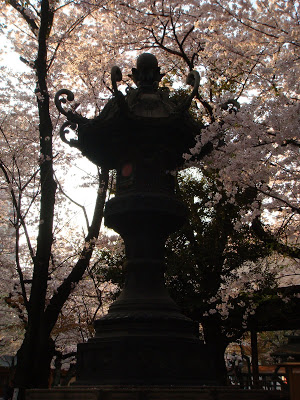 Anywho, I crossed back to walk along the moat as Moon shone brightly, the sun started to set and all the blossoms lit up in a rosy finale.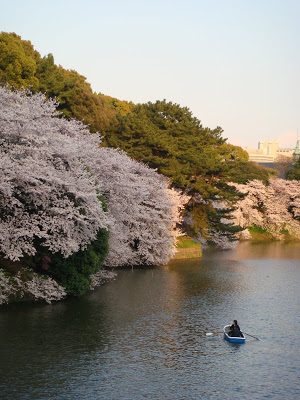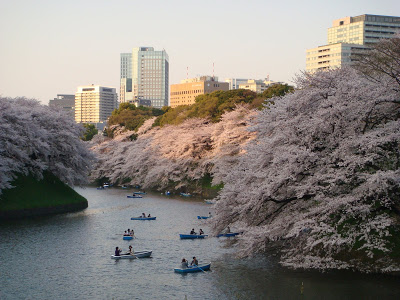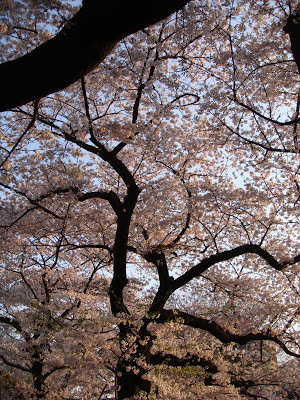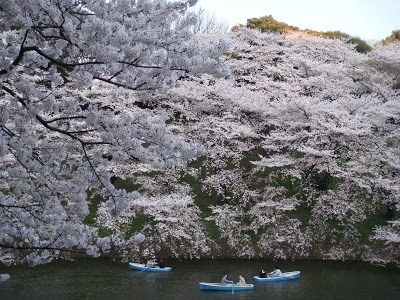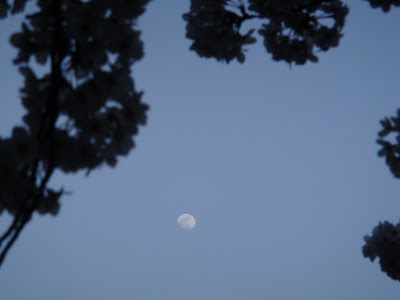 For the Nighttime Hanami stop on the Tokyo Cherry Blossom Tour we're headed to Ueno Park (Easy: Ueno Station). This is my impromptu guide who asked where I was headed back at the beginning of Tour Stop #2 and showed me around the rest of the afternoon. Takashi used to be a sous-chef at a New York City sushi restaurant where he specialized in blow fish sashimi, being very careful to cut off the poisonous bits. I asked if he'd ever made a mistake with that. He said no. Then he invited me to bring Chris to the Omotesando restaurant where he works.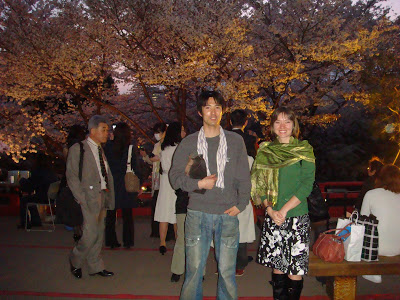 The park was packed with businessmen just off work at looooong tables set on blue tarps. And everyone else—this is the place to be! The cherry trees line either side of the lane leading to the National Museum (final photo below). It was a relatively warm evening, the crowd lent a general jolliness to the festive atmosphere, and wafts of roasted corn, grilled meat and night flowers drifted over the throngs. Toss in a hint of jasmine and about 25 degrees and I would have sworn I was walking along the Nile again after one of those blistering summer days when no one leaves home until after sunset.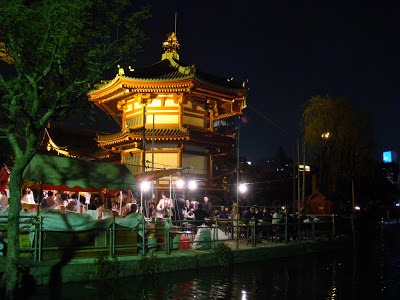 Even more food vendors…even more cherry blossoms circle Ueno Park's Shinobazu Pond, where one couple was feeding a small army of ducks under fluffy, thick, pinkish foliage.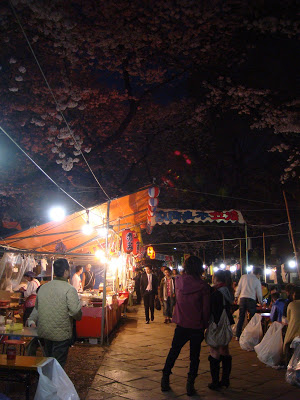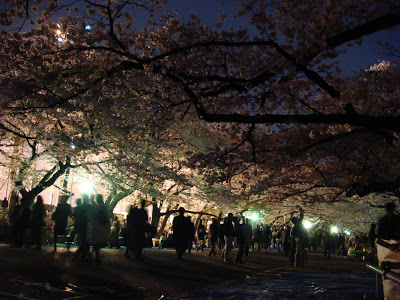 I walked home from the train station along the river, dark and silent after another day filled with families and food. The moon—almost full—illuminated the gossamer petals waving on the soft breeze like shoji paper in a window. This is my stop—good night!