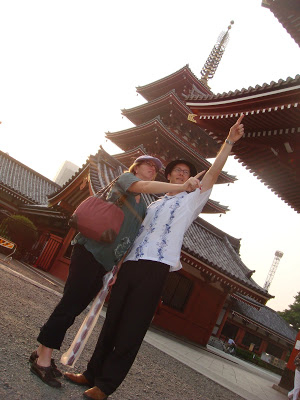 Luke and Amber gave me mostly free reign planning their trip. "Most of what I know about touring Japan is what I read on your blog, so I want to see that stuff," Luke flattered me. How's that for motivating? "You talk about fish markets; that sounds cool," Luke added, followed by, "The Ninja restaurant! I want to go there." Easy! One customized Tokyo tour, coming up!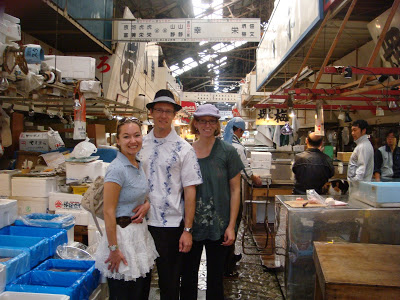 We got to Tsukiji Fish Market around 11am and the outer market was hopping with Tokyoites stopping in on their lunch breaks. The inner market fish slingers in the dockside warehouses were winding down for the day, but there was still plenty to see.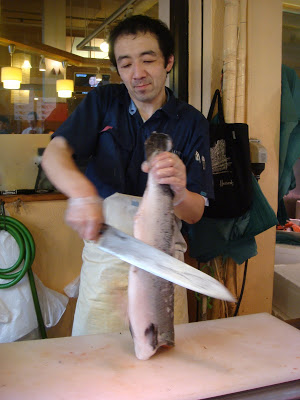 Luke commented on the sheer volume and variety of critters pulled from the ocean every day as crabs flailed and tanks bubbled with live produce shipped in literally within hours. We examined the tubs of fish refuse and this kitty examined a tray of the freshest seafood in town.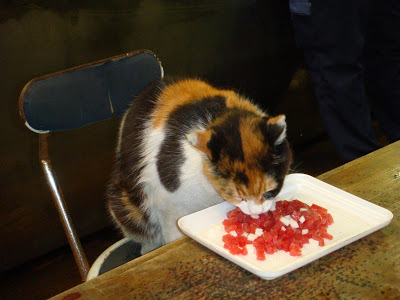 Warm sunshine and a cool breeze accompanied us to Namiyoke Inari Shrine between the inner and outer markets. This Manji era shrine floated in the sea around 1661 to protect the men working on the reclamation of land around Tsukiji from dangerous waves. Its name means 'protection from waves' and the shrine is patronized by people seeking safe voyage and good luck.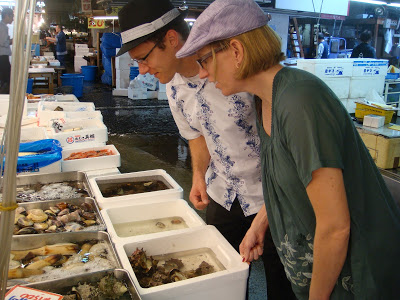 Way too many metro stops later we ended up on the Yukiramome Line suspended under the Rainbow Bridge with all of Tokyo Bay spread out around us. We found Odaiba's Gonpachi just in time for our 1pm reservation at a window table overlooking the mini Statue of Liberty and the bridge we'd just crossed.

Sensoji Temple in Asakusa was our next stop. I'd planned to take us up the Sumida River on a water bus cruise, but the terminal was closed for some reason only listed in Japanese. A bunch of Japanese people also tried to buy tickets only to discover its closure, so at least it wasn't just us silly gaijin without a clue. We stayed in Asakusa until sunset, exploring its side streets and gardens and generally enjoying people watching. We play the 'guess the nationality' game, the 'guess the gender' game, the 'guess the relationship' game and the 'do you think they know what their Engrish shirt means?' game. One girl was wearing a sparkly shirt bearing the message, "Red, White and Broke" complete with dollar signs crossed out by the O in broke, and a middle-aged respectable mom-type lady wearing an "F— off" shirt. ha ha!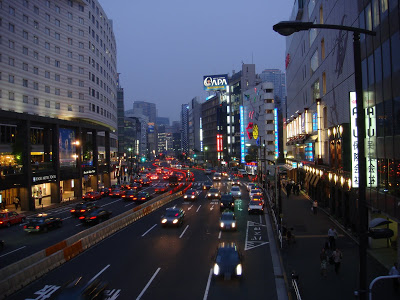 Chris called to say he was on his way, so we again hopped on the metro to meet him in Akasaka-mituke for dinner at the Ninja Restaurant! We got there a little ahead of him, but I told the hostess he'd be arriving soon. No problem she said, then continued, "Please, you must complete some ninja training. I will call ninja!" and clapped twice with dramatic flourish. A ninjette leaped from some inner room and struck a pose, then invited us to follow her.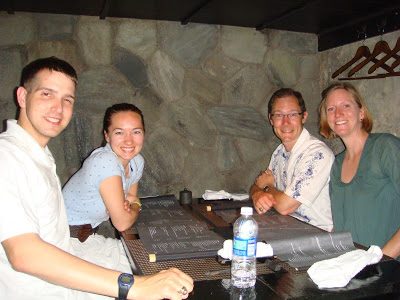 "Sumimasen!" I said, "Chotto matte!" Excuse me! Just a minute!! I asked if we could wait for Chris. No problem! they said again. The ninjette looked around, unsure, then knocked on the panel from whence she'd appeared. It opened. She giggled and disappeared again. Chris arrived seconds later and it began again.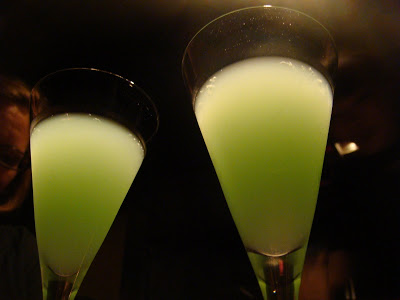 No sooner had we sat down and ordered our Japanese Elegancy drinks (grapefruit and green tea liquor) when who should arrive at the table next to ours but my friend Jill and her brother! ha ha, that was excellent. A ninja performed some magic tricks and afterwards Chris shrugged and said, "I never know—should we have tipped him?" I looked at Chris. "I did tip him. I leaned across you to hand him the coin and then he said, 'oh, one more trick!' " Chris laughed, "I didn't even see you!
You're
a ninja!"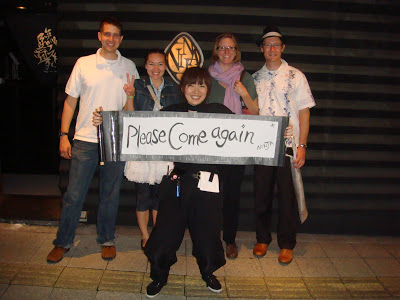 After all that 'training' I think we're all ninjas! 🙂 On the way home I became the Courtesy Seat Ninja and
sumimasen
-ed people on all trains home to please make room for preggo Amber. They were unceasingly polite and courteous.
Domo arigato-gozaimasu!