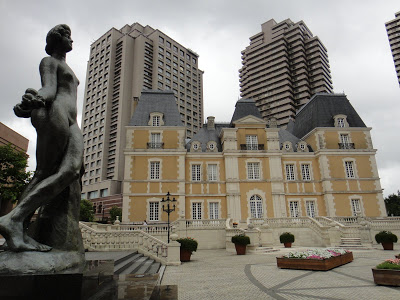 The approach of Typhoon Ma-on gave me only temporary pause about popping over to Ebisu for lunch with my friend Jill's mom at the Garden Place Westin. Jill's mom, Debbie, joined Jill, Chrissy, Kristin and me for many a lunch date and shrine sale in summers past. Those days are gone; those friends all live Stateside now. But lunch lived on with Debbie and me!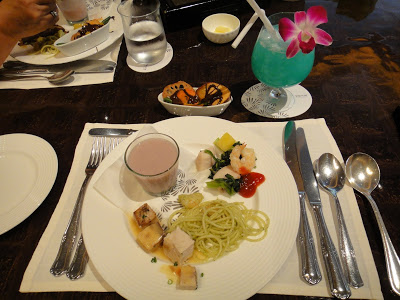 The Japan Times' Summer Dining Special featured the extravagant Hawaiian buffet at the Westin's Terrace restaurant. What a coincidence; it's also where Debbie was staying. Bonus: we didn't have to dash through the steaming streets of Ebisu between downpours. We began with some fun drinks: bottomless mineral water for her, Hula Party (mango juice, milk, coconut syrup) for me.
Then the buffet: we tried the cold coconut taro soup, garlic coconut pasta, mahi mahi with a mango sauce, pureed ham and mango (skip—tasted like baby food), taro and tuna salad, muscle poke, and more. Just about everything had a satisfying touch of coconut. Yum yum yum!
This is interesting: two separate vegetable-chocolate bars. Try the steamed broccoli, carrots, and green beans with dark chocolate, or salted dried veggies drizzled with olive oil and chocolate. It's called Vernier Kauda Chocolate and debuted at The Terrace lunch and dinner buffets this spring. Apparently this combination of super foods has lots of health benefits. I don't know about that, but the crisp daikon (Japanese radish) with olive oil and chocolate was my favorite.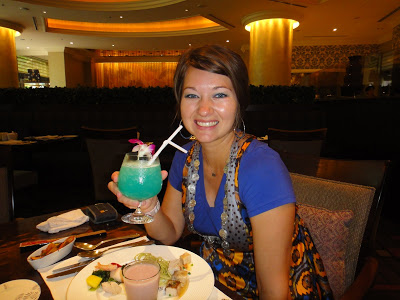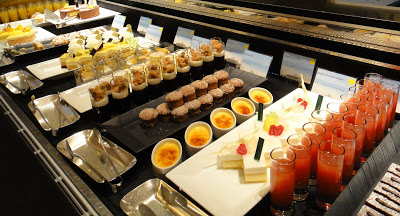 We avoided the Octopus Poke. Nothing about that looked or sounded appealing. The girl behind me, however, took a huge spoonful. Bleck. Also avoided: tasty-looking squares of beef. News broke recently of a handful, then hundreds,
now more than a thousand cows' worth of radiated beef
cropping up in Japanese markets. No thanks! The lunch crowd came and went; the beef stood alone.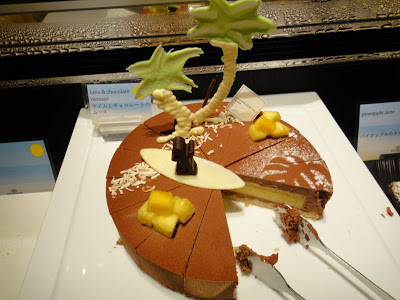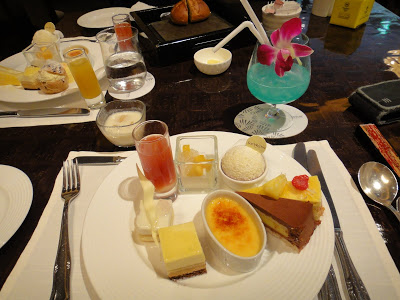 We finished the savories with a small bowl of coconut curry—it was my favorite main dish! Everything was so yummy and we hadn't even gotten to the dessert buffet! Oh boy!! The back of my head was already tingling with a sugar rush. Wait a minute—"I ordered this off the non-alcoholic menu, right?" I asked Debbie of my orchid-bedecked beverage. "Yeah, because it's something I considered too and I was only looking at the non-alcoholic menu." After dessert, Debbie's eyes got big when she glanced over the bill: "Oh no! This says they brought you a Blue Hawaiian! That's not what you ordered!" Indeed not. Who brings a pregnant lady a Blue Hawaiian at lunch?! Oops…sorry, baby! Maybe the steamed veggies and chocolate super foods will balance that out, right? ha ha.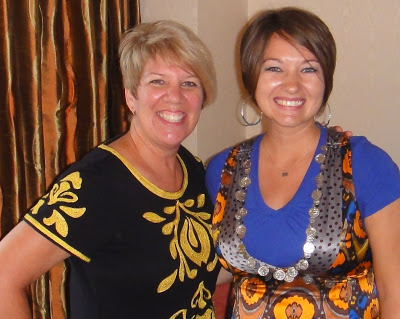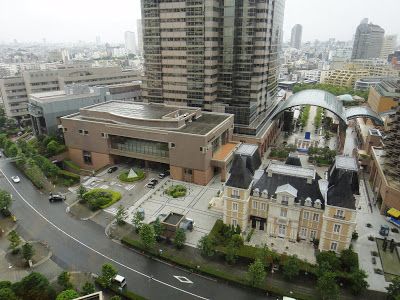 Anyway, on to the desserts. Oh. My. We started on the right and worked our way across: guava jelly, grapefruit-lychee mousse, mango creme brule, lime-chocolate mousse, coco-mango cake, lilikoi-caramel mousse, cold coconut soup, mango jelly…. It was everything I love about dessert: tangy, tart, sweet, decadent. Amazing! Afterwards, we enjoyed the rain-splattered view of Ebisu from her 13th-floor room and chatted about Japanese obi, life in Japan, and what's next! Thanks for a wonderful lunch and really fun day, Debbie!