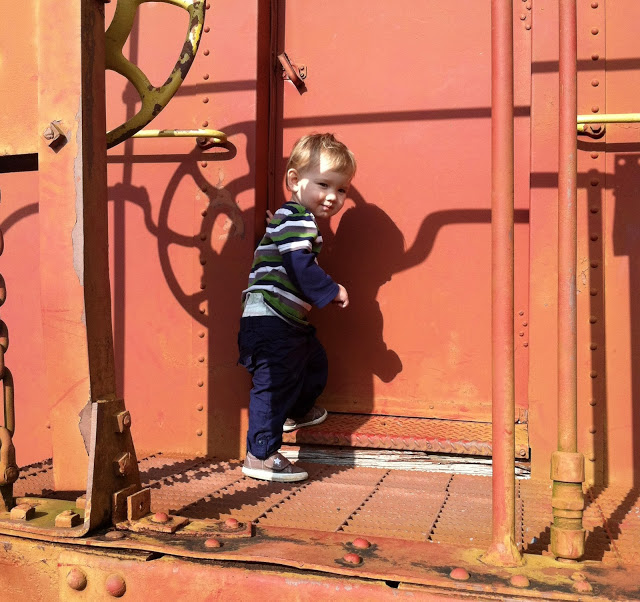 All aboard!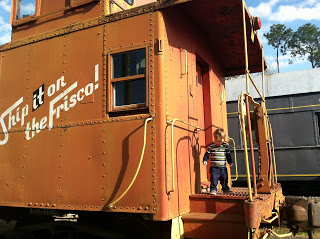 Captain Goodbaby likes trains. And cars. And helicopters. And his stuffed lion, his blanket, and my Valentine from Chris. But back to trains. When I heard the West Florida Railroad Museum (5003 Henry St) was just 20 minutes away in downtown Milton, I put its next opening on our calender. Who knew what we would find, but my tot is not picky when it comes to trains.
We arrived right as a real train clanked by the museum. Quite the crowd had gathered for this event: a handful of boys/moms and three times as many elderly men who make up the model train club (which runs the museum, I think). They all had a veteran air about them. As we walked up two or three of them approached and warned me to cover the Goodbaby's ears as the train went by.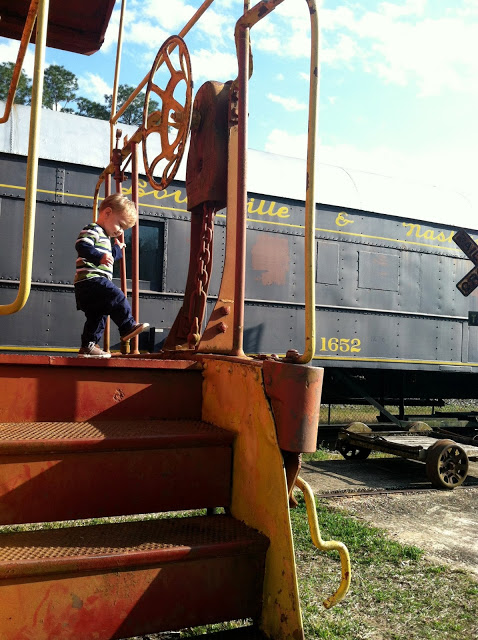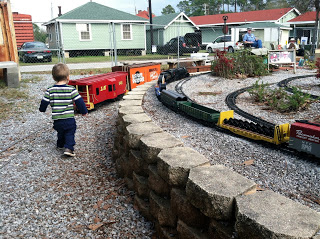 I'm not sure why, but I kind of like it when random elderly people tell me what to do with the little Captain. "You better put his socks on!" "Enjoy him while he's that small!" "Cover his ears—it's loud!" They're saying words but all I hear is, "I love your baby! Your baby is the best! I completely love him and want what's best for him!" Oh hey! Me too! Look at all these nice people! Unfortunately it only works when it's strangers. When it's someone familiar it reads, "I know you, and you're doing it wrong. Way to mess up your kid." Hm. That is so wrong. Anyone care to weigh in on that?
Anyway, we didn't get a chance to go into the actual museum because somebaby was so very interested in all the train cars available for climbing on and running through. AND there was a whole area of big model trains. Captain Goodbaby watched them go by in fascination, then made the sign for 'more please!' One of the old gents asked if we'd like to ride the larger mini train. OF COURSE! I held the Captain in my lap and off we went. A seven-year-old fell off the train somehow. I thought that meant the ride was over (and that would have been enough), but we were told to stay put and circled the set-up three more times, to the point where I started to feel silly and the Goodbaby fussed. But whatever, it was tot-tastic and we're for sure going back, because we can never get enough TRAINS.
The West Florida Railroad Museum is open Friday and Saturday 10am – 3pm, and has a dining car available for rent. In March they're doing a murder mystery dinner theater too.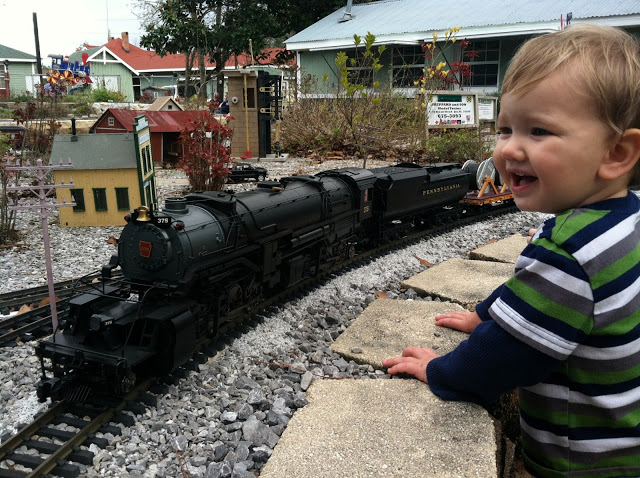 Why was I home for a month when I could've been HERE?! Tot heaven!
We stopped by the Veterans' Park on the Blackwater River on the way home so we could clean out the backseat = tossing all the old froot loops, goldfish and raisins to the seagulls, then chasing them. Making the seagulls take off made Isaac laugh really hard. This is SO my kid.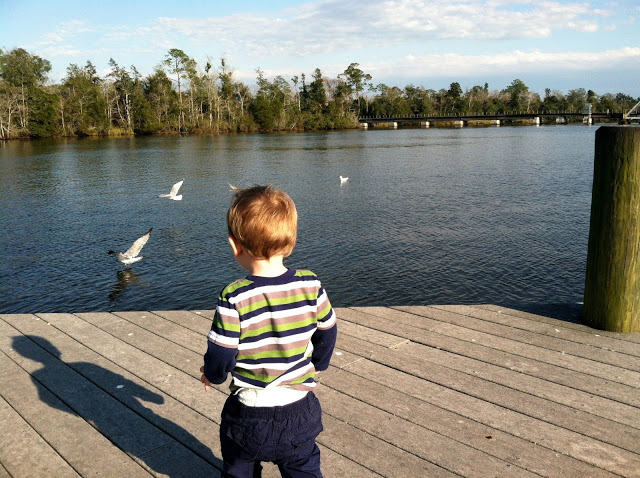 This kid is good company.