Now approaching Pensacola International Airport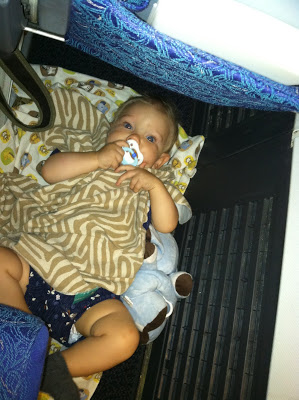 Chris has set out on his first cross country flight since we got here. He and his students are headed to Houston to participate in an airshow or something and spend time with family.
Isaac and I are home all by our twosies this weekend (except for all the Japan girls coming in town and general baby partying). Anyway, in honor of Chris' flight, we'll recap some of Captain Goodbaby's recent flying adventures.
We learned this trip, for instance, that flying with a nine-month-old is much worse than flying with a one-month-old. Wiggle wiggle! Fuss fuss fuss! I want up! Put me down! Wiggle fuss fuss wiggle! Take off and landing were no problem. It was those pesky layovers and hours of flight time in the middle!
I do not want a Mum-Mum snack.
I do not want my baby crack. (apple juice)
I do not want my elephant.
I do not care if Daddy's spent.
I will not go without a peep.
I will not sleep under a seat.
I will not play with Mama's purse.
I will not sleep or try to nurse.
I do not want to sleep in flight.
I may be tired but I will fight!
~Captain Goodbaby
He tries to fight it…he fails! Isaac at the end of his one long nap, sloooooowly waking up.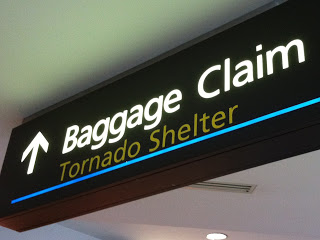 On the first leg of our trip to Colorado, before all the howling, hysterics and sorrows, we had a nice hop to Atlanta. Isaac took a 20 minute nap and smiled at everyone the rest of the time. We landed and taxied to the gate.
This is the time when seatmates talk to each other now that you can't get stuck talking to a weirdo the whole flight. The nice-looking, middle-aged woman next to Chris had cooed at Isaac a couple of times. Now she said, "Never apologize for bringing a baby on a flight. My son is 23, and when I flew with him as a baby, everyone just glared at me as we got on the plane."
I commiserated, "Oh yeah, when we moved to Pensacola we had to fly from Seattle to Atlanta, and this guy ended up in the seat next to me instead of Chris. Chris offered to trade him seats, but the guy made a big, loud deal out of not wanting to switch. I told him, 'Hey, totally don't worry about it. My husband could use the break, and we'll just pass the baby over you if we need to. Totally don't worry about it.' He just kept looking to everyone around us for support and getting louder and louder about why he didn't want to switch, which I kept assuring him was ok, and finally he just huffed off and switched anyway because he didn't want to be stuck near a baby. And afterwards, the ladies around us said, 'Oh! There's a baby on this flight! I didn't even know! He didn't make a peep!'"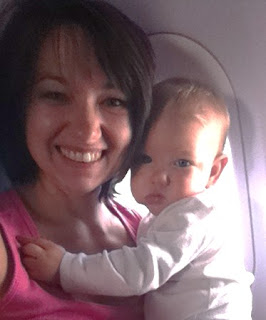 We arrived at the gate and everyone squeezed into the aisle in embarkation anticipation. But the lady saved the best for last: "Yeah, everyone on that flight glared at me and my baby, and I just wanted to pinch my baby and make him scream the whole flight, just to get them back! I told my son, 'I almost want to just pinch you so hard so you'll scream the whole flight!'" Her voice had risen and everyone within three rows was staring at her. Including us. In silence. "…Are you staying in Atlanta?" I asked. She nodded, collected her bags and wished us a good next flight. Thanks?
And when Isaac spent an hour and a half wailing on our next flight, I was sure to apologize to the elderly couple in front of us, who kindly assured me they couldn't hear anything anyway and not to worry.
Captain Goodbaby only slept on the flight home after crying another 90 minutes. Finally, I tented my sling over our heads and he zonked out snuggled up on a baby blanket an elderly man at the entrance desk to the Denver USO gave Isaac, knit by his wife. Aaaawwwww.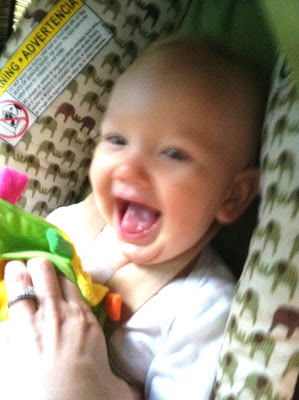 In the car, heading home, at last!