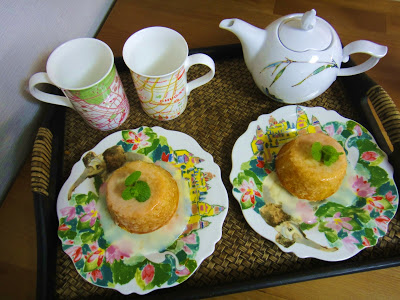 Hot and rainy, hot and rainy—you'd think we were in the tropics. Between that and being done with work, I've had plenty of motivation to find ways to stay cool. When it's too hot to simmer by the pool, I recommend a Tropical Weather Tea Time! I really really like the Temecula Olive Oil Company. They have a tasting room in Old Town San Diego and two years in a row I've brought home garlic olive oil. Yuuuuum. I used it and their California balsamic in the Tropical Quinoa Salad below, and the dessert recipe comes from their website.
To drink: Lime Sunburst: combine grapefruit, lime and orange juices, plus mint to taste. Garnish with fresh mint.
To eat: I modified a recipe from my friend Rebekah for this Tropical Quinoa Salad (my parents are quinoa fans and it's newly available in the commissary's gluten-free section): Mix together half a bag of frozen mango, one red bell pepper, one 15-oz can of black beans, a cup or two of cooked, frozen shrimp, and two cups of cooked, cooled quinoa. Dress with 2 Tbsp of a light, fruity balsamic vinegar, drizzle with olive oil, and season with chopped shallot, cardamom, galangal, ginger, and a bit of garlic. Serve on a bed of spinach.
Afterwards, let's have tea: Whittard of Chelsea's English Rose tea with milk. A light and floral tea that compliments the strong citrus of the dessert.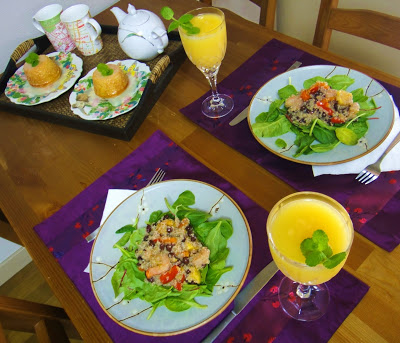 For dessert:
Lime Olive Oil Cake
with a lime glaze. I only slightly modified this
recipe
from the Temecula Olive Oil Company by using different olive oils and adding a sugary glaze.
Ingredients: 1.5 cups flour; .5 tsp each: baking powder, baking soda and salt; 3 large eggs; 1 cup sugar; .75 cup plain yogurt; zest of 3 limes (what do I do with three naked limes?! I found a way to use them all in this recipe. Read on); .5 cup plus 4 Tbsp extra virgin olive oil mixed with the juice of one whole lime and several heavy shakes of chili powder, just enough to make the oil catch a little in the back of your throat (the original recipe calls for .25 and 2 Tbsp of that to be Fajita Frenzy Olive Oil. Use that if you have it).
Preheat the oven to 325. Beat the eggs and sugar, add yogurt, zest and olive oil mix. Add dry ingredients and stir a lot. Pour this into a 9-in spring-form pan, or if—like me—you don't have one, cupcake tins work fine. Bake about 40 minutes.
This doesn't need a glaze because it's very moist and tart, but knowing my husband I thought it'd go over better if it had one. I recommend: 3 Tbsp melted butter and juice of the other two naked limes mixed with 2 cups powdered sugar.
To serve, I popped out the cakes, flipped them upside-down, drizzled with glaze and garnished with fresh mint. Hannie and I ordered something at Harrod's in London that came served that way, dusted with powdered sugar; we thought it rather clever. Plus, it makes a nice little plateau for the mint garnish.
The table setting: silk plum place mats from Thailand, bamboo tray from Thailand, blue dinner plates from Japan, Tokyo map mugs from Tokyo, dessert plates from Anthropologie, dragonfly teapot from Japan.