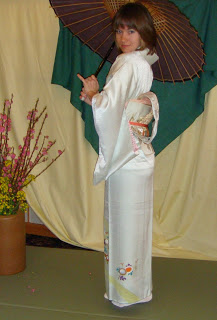 It took five very talented, practiced women about 10 minutes to get me properly suited up Japanese-style. I wasn't sure what to expect from the annual Kimono Luncheon, but I was NOT expecting the dozens of very kind women who brought their own heirloom kimonos for us to try on for a fashion show and general prancing around. I got to wear a traditional tea ceremony-style gown. They set up benches for photo ops, plus a little cherry blossom platform complete with parasol for posing.
Our hostesses demonstrated folding obi, the fabric around the waist of the kimono, into elaborate butterfly patterns. Some of the Japanese women were dressed in kimonos themselves, but most were in regular nice clothes so they could dress us.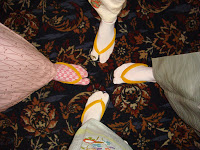 It was so humbling to see all the work they put into making the napkin rings by hand and gathering 40 full sets of kimonos for us. Each of us had on an estimated $10,000-worth of formal kimono. We wore the toe socks, sandals, two under-kimono made of cotton, padding for under the obi, a silk knotted sash above the obi and a woven cord on top of the obi—and when I was changing out of it I uncovered even more layers I hadn't even known I was wearing. This day pretty much epitomized for me the extensive hospitality and attention to detail the Japanese are known for.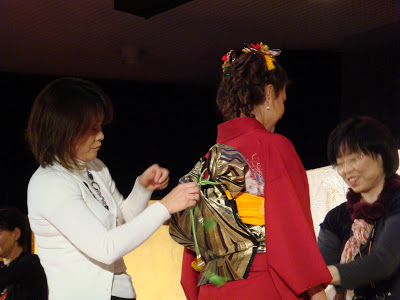 They brought their families' formal portraits with all ages dolled up in male and female kimonos. They hand stitched us kimono-shaped coasters.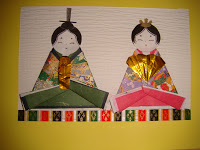 When it came time for the door prizes, everyone's names had been folded–not in half, but into tiny origami shapes. I knew this because I won a kimono purse and wallet of tea ceremony napkins. It is precious! I exclaimed about the origami name drawing back at my table and one of our hostesses smiled and bowed, admitting that she had folded all the names herself. The handmade books describing the differing levels of kimono formality and style had for a cover tiny people wearing folded origami kimonos. I am in awe!