The first time I watched the 1967 film "Two for the Road," it literally made my stomach hurt and blood pressure rise. When Chris and I got our marriage license I asked someone entering the courthouse to take our photo. He took the camera, focused and said, "Here's some advice for you—don't get married!" Well! Thank you for that! Then we watched this movie and I was too new to the idea of marriage to find any humor in the running theme, "What kind of people just sit there without even trying to talk to each other?" "Married people!"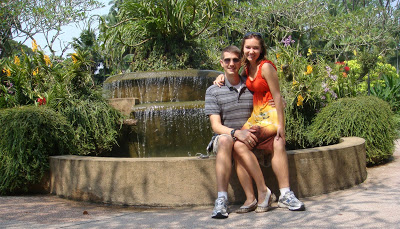 Albert Finney and Audrey Hepburn recount their 12-year relationship as they drive south through France together for the third time. They argue about his working too much; he accuses her of breaking her promise to always be happy. They argue their way across Europe and almost separate but ultimately complete their journey and cross the border to Italy just the two of them. "If there's one thing I can't stand it's an indispensable woman!" Finney says in the beginning. I watched it again on a Sunday afternoon with some fresh pesto, French bread and a glass of California wine. This time around, especially with Chris gone, I appreciated the real point: despite our plans and travels and detours and arguments and work obligations, it's still going to be just us for always; we'll live the journey and finish it together—two for the road.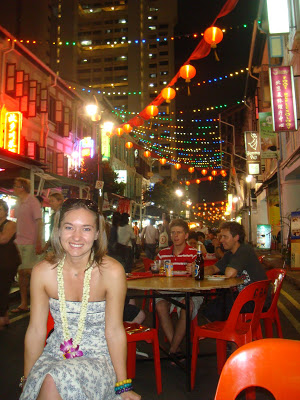 To that end, I'm off to Singapore to meet Chris in our favorite port from last year!! Hello Little India, Singapore Botanic Gardens, afternoon tea at the Raffles Hotel, Sentosa Island, the southernmost tip of Continental Asia, palm trees, hawker centers! I can't wait to return to the city where one day can feel like an adventure through five countries as you pass from Imperial England to Little India to the Arab Quarter to Chinatown to Kampong Glam (that's the old Malaysian palace of the king who sold Singapore to the British). See you soon, Chris! Two for the road!!