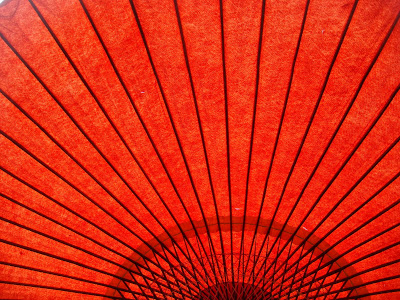 I have a special radar fine-tuned for the red umbrellas that signal Japanese tea ceremony. I spotted one across the irises at the Sawara Aquatic Botanical Garden and had beelined over before I knew what was happening. There was a bowl of tea with my name on it!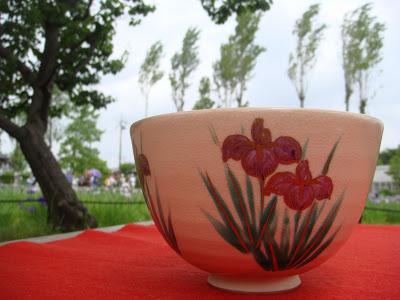 This exquisite, hand-painted iris tea bowl held three sips of expertly-frothed matcha green tea. Chris sipped his from a manly dark green bowl. "Mmm, grass," he said.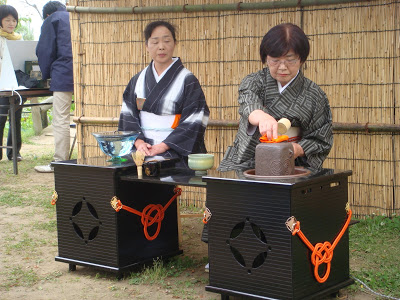 I love watching the ladies ceremonially wipe down their laquerware tea utensils and scoop the water from the pot while holding the bamboo ladle just so. They presented an iris bowl with the design facing me so I could admire and appreciate it. I turned the bowl three times so that the iris politely faced them before taking a sip. The tea ceremony master noticed this and rewarded me with a smile and nod.
The tea sweet was purple sweet bread filled with anko (black been paste) and decorated with a delicate iris. I alternated sips of bitter tea with sweet iris pastry in the spirit of tea ceremony: contemplating the beauty of the irises all around and the appropriateness of the wedding ceremony being held on the grounds four years after Chris and I tied the knot ourselves. Thankfulness all around.