The best French food outside of France is in Japan. Everybody knows this. In the ¥100 stores (like a dollar store) bad French translations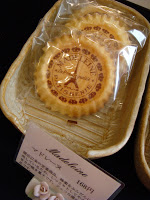 appear on bags and zip pouches right alongside their English counterparts: "High Sense Creation. We would like to hand our goods to you. You must be satisfied with it!" (on a wallet). There's a Japanese cartoon kitty who likes to travel to Paris. And they like the French food (example: Michelin-starred
Signature
, the best French restaurant Chris and I have ever eaten in).
I believe I've mentioned the French bakery down the street. Little did I know there are TWO!! The second is actually closer to us, a bit pricier, and has little cafe tables. It's called Madeline's, the cutest French name of all time. This one is across from the flower shop.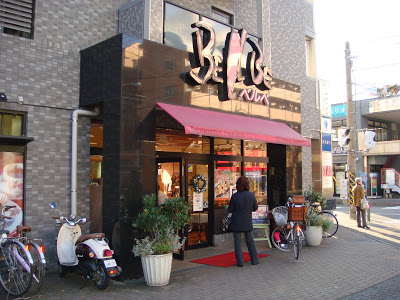 Chris and I bought thick slices of bread, baguettes, glutenous rice muffins sprinkled with red beans and black sesame & honey spread at the shop pictured above, right by Sakuragaoka train station. Ok, so it's Japanified French food, but it's delicious. That honey spread is pitch black and is a Japanesey kind of Nutella. Yum!