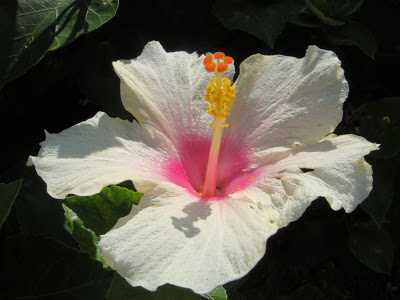 My last post was a race against my computer's dwindling battery power and the 'all aboard' call for my flight to Miramar Marine Base. I was the 8th of just 10 people allowed on the flight–the two retired men who had been on the same flight from Kadena, Okinawa to Hickam, Hawaii two days before didn't make the cut. In turns out no one from that flight got onto the Tuesday morning flight to North Island that I thought I could have gotten if I'd been faster. Not in fact the case.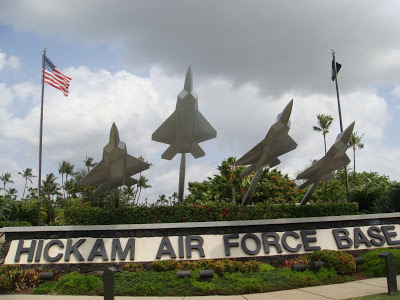 If God has taught me one thing since Chris and I have been doing this Navy thing it's that he's in control and protecting us when we don't even know to ask for help or protection. Case in point: The Brooks were musing that all the beaches were far more crowded than usual. Then we figured out it was spring break in Hawaii and a lot of the US (spring break in Atsugi is after Easter). And that meant all the affordable military hotels were cram-packed. (Fun fact 1: Hawaiians think raw black crab is a delicacy. Fun fact 2: real live angel and parrot fish swim in the entrance to Pearl Harbor, overlooked by the Wright Bros. Cafe on Hickam AFB)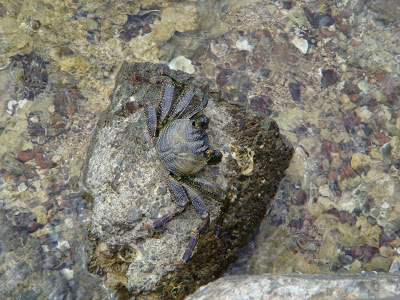 I needed to be at the air terminal by about 4:30a.m. anyway, so I asked the Brooks to just drop me off there before they headed back to the other side of the mountains where we'd stayed the night before. We went to the air terminal to make sure my flight was still on schedule (yes). The terminal was packed at 11p.m., and mine was the next flight out. What gives?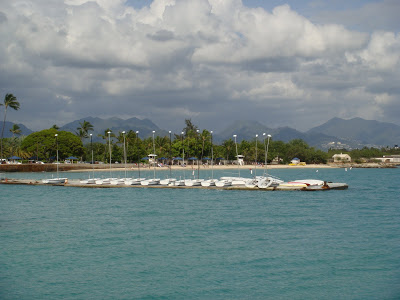 Oh…these are all people waiting for flights who couldn't find rooms and didn't want to pay for regular Hawaiian hotels and the $20 cab fare (each way) to get there. I would have been stranded here for two days if I hadn't gotten stuck in Okinawa with the Brooks and gotten to know them!
I probably wouldn't have stayed in the airport for two whole days, but I certainly wouldn't have gotten to nap on all the gorgeous beaches, see the dazzling panoramas or hike that cool trail. I wouldn't have seen all the historic hotels along Waikiki beach, watch the sunset while eating grilled pineapple, or had any dinner companions. (all the above photos are on Hickam AFB. The below photos are Waikiki Beach, except the last two obviously)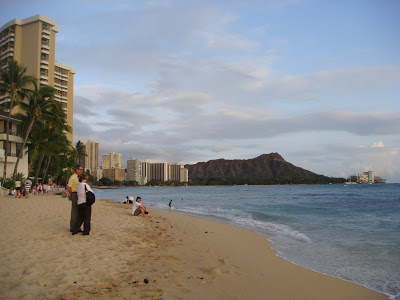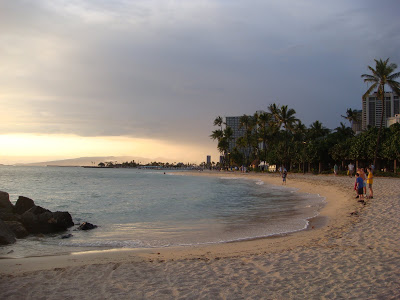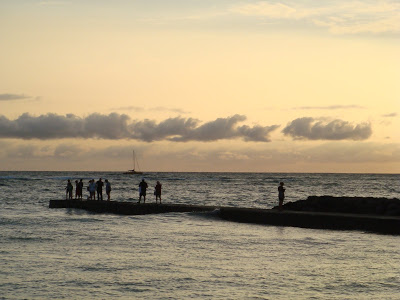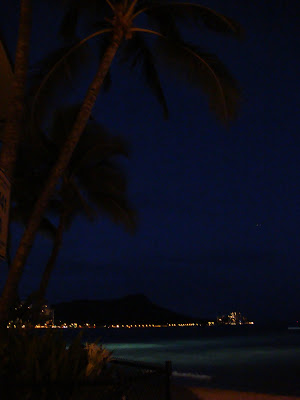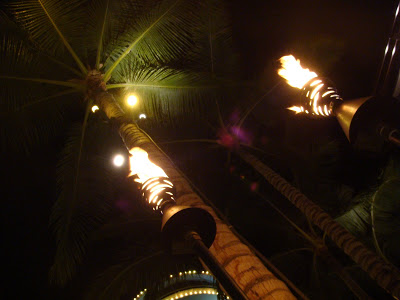 I told the Brooks I don't know what I would have done without them! So when I was feeling high and dry in rainy Okinawa, God was planning an escape route for a problem I hadn't seen coming! So yes, I spent that night in the air terminal and didn't sleep at all because I was nervous about catching one of the 10 seats and had to keep an eye on all my luggage, and when I arrived in Miramar what I'd thought was just a sore throat from eating too much pineapple had turned into a very sore throat and some congestion, which progressed into a full-blown head cold and laryngitis all weekend!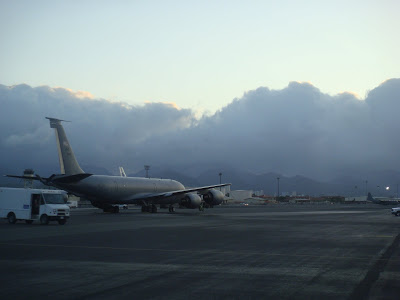 But before that Chris picked me up at Miramar with a beautiful bouquet and took me to get Mexican food. Yay, being with Chris always feels like coming home! I had a Pacifico Cervesa to celebrate my journey across the Pacific. That seemed appropriate.