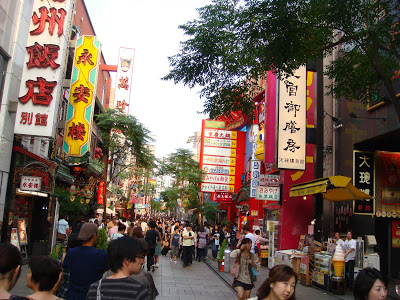 So Thursday Chris says, "Uh, do you have any plans tomorrow? Because I kind of need you to come to my motorcycle class so I can get a passenger rating." Then Thursday night a little after 10 pm we get several phone calls: the class has been overbooked. It has been rescheduled to Sunday. Yes, this is the only class available before you deploy. Chris needs this class to get his Japanese motorcycle license, which is required to buy a motorcycle from his friend who's moving soon. No time to waste!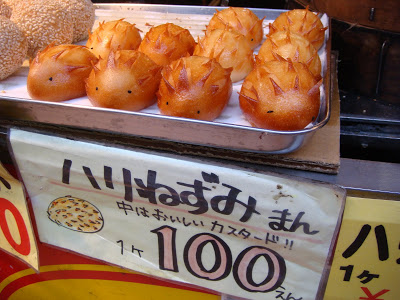 That means Sunday we got up dark and early to skip church and be starved all day in a motorcycle course with nary a lunch break. We left our house at 6:20 am and didn't get done with the class until 3 pm. That's a long time to go without food when you're walking miles and miles in the only shoes you have that meet silly military moto standards and also unfortunately have a slight heel (even though they are stunningly cute).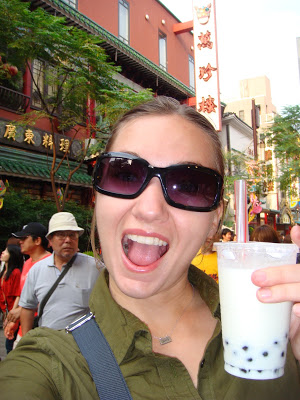 Anywho, yay! Chris passed! We went to celebrate with dinner nearby at our favorite hole-in-the-wall in Yokohama's Chinatown (it's on Hong Kong Street, the entrance of which is pictured two photos down)! But even before that we had these delicious teas with the gummies in the bottom. I LOVE THOSE!!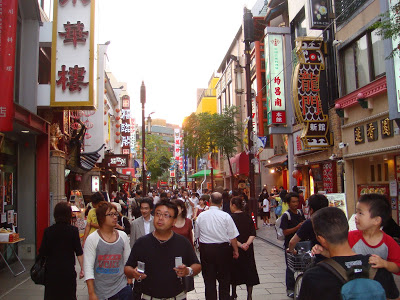 The cloudy, rather windy day cleared up for a very pleasant, very late lunch date. I'm trying to soak up all the Japaneseyness of Japan because I'll be going home soon and I'm back to that point of sort of getting used to a lot of the things that used to be all, "WHOA!"
In the States I think, "Whoa! Look at all the parking spaces!" and "Whoa! Look at all the white people!" and "Whoa! Everyone's dressed so casually!" and "Whoa! I can READ EVERYTHING and TALK TO ANYONE!!!!!" That is not to say I notice nothing new about Japan. Take the ingredients in this fizzy drink, for instance: Catnip, Passion flower leaf, Blueberry leaf, Chamomile, Linden, Lemon verbena and Lemongrass! I guess what I mean about having to try to notice Japan's Japaneseyness is that when I walked by a $6 melon tonight instead of thinking, "Whoa! That's some expensive cantaloupe!" I thought, "Oooo, maybe I should buy a rock melon." Maybe it's good to go home for a bit.