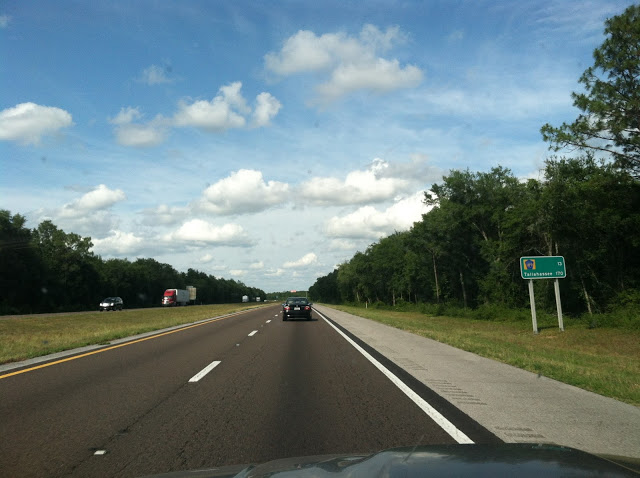 Hitting the road, full of hope and possibilities!
"Comparison is the death of joy."
-Mark Twain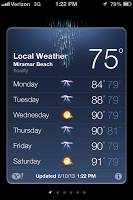 I hear people talk about tossing their multiple kids in the car and taking off for fun and adventure. I want to do that. We live along the gorgeous Emerald Coast. This place does festivals seriously right. Our baby has become an engaging and delightfully adventurous tot. It's time to live while the living is good! So when we got a last-minute opportunity to stay in a Destin condo for next to nothing, we said YES!
Watching Isaac reminds me of something very important: when stuff doesn't turn out like I pictured, we can still have an as-good or better time. Park play date rained out? We went anyway and it was THE MOST FUN the tot ever had, if you ask him. So a weather forecast of Sunday rain didn't trouble us too much as we cruised down the coast Saturday afternoon. Then we hit traffic. But it's ok, it's ok—we got there, we swam in the condo pool. Sure, the tot is coughing, but he's over that fever from a few days ago. Right?
Sunday's rain was not for the faint-hearted. Rolling thunder, a deluge of water, traffic at a standstill. And we forgot the tot's medicine, which he still needs daily. We called in a refill locally (whew!), then basked in his delighted squeals at the Gulfarium.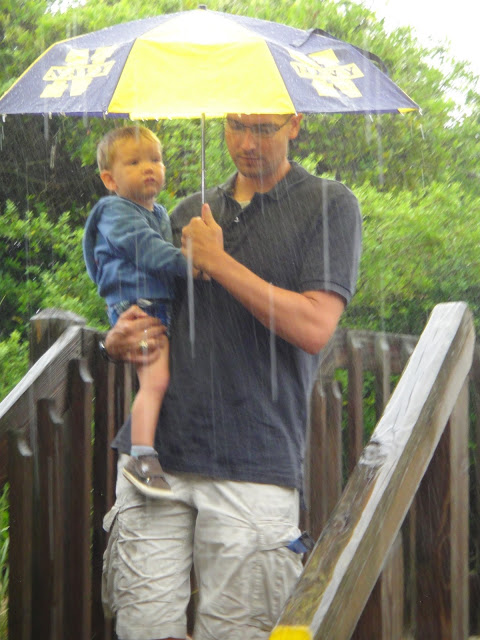 All our shoes were soggy
But the rain and traffic back were so bad—cars stalled in the road from runoff—that we didn't have time to stop for lunch before the tot's nap. Later, the storm abated and we ran down to the shore, then ran back in the rain. We watched baby Einstein's "Neptune's Ocean" 37 times. And I got so sick I literally could not see straight.
It rains and rains. Finally the day ends. It's supposed to be clear tomorrow. Instead, it rains and there's dangerous sea life. But hey, I feel a lot better—I can breathe; my eyes aren't running. And jellyfish didn't keep us from enjoying ourselves way back when my family visited the area more than 15 years ago. We can still do this!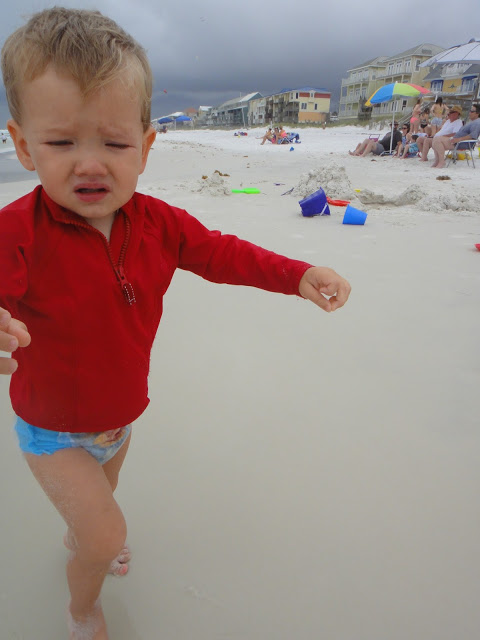 Yes we can! …no we really can't.
It's totally overcast and about to rain (all day), but let's go. We trot down to the beach, point to the ducks, and get to the water's edge. Anything sub-ideal becomes awesome when the baby loves it. And…total toddler meltdown from the kid who loves waves. He was up for an hour or two coughing at 2am, so today he doesn't like the sand, doesn't want to get wet, doesn't like the rain approaching from down the coast, doesn't even want to get in the pool. All he wants is to bury his head in my shoulder. His eyes are now red and streaming. Snot covers his face and hands. He is miserable.
I think of the camping trips with my family growing up where someone barfed, it rained all weekend, the tents leaked and we left early. That never stopped us from doing it again.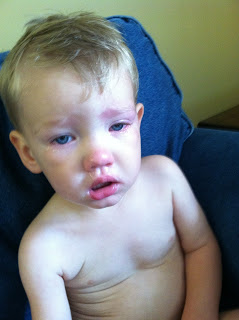 Vacation baby—no spin.
But…why not? Every time we've taken Isaac somewhere we end up sick and totally wiped out. He sleeps fine in his pack-n-play (except for the coughing) but it makes me wonder: are we just in a Do Not Travel phase of life with tots? It seems like other people do it and have a better attitude about the misery. What are we missing?
So obviously we came home early. Nothing like being sick to make you dread all future travel plans. Ugh. When we got our tax rebate Chris asked, "Do we want to go anywhere while we live here?" We discussed the many merits of visiting my bro's family in Alaska or taking the Goodbaby to Disneyworld, but finally we admitted that the only vacation that actually sounds good these days is getting a great deal on a nearby condo and just enjoying the beach. This weekend that fantasy was fulfilled! Filled full of reality.
The next post about this weekend will be completely positive and make it sound like we had an awesome time. It will totally leave out the fact that somebody was sick at all times. It will not mention me crying after I couldn't get the key code to work and got locked out in the rain with the baby at nap time. It will not mention Chris saying, "This was YOUR idea!" Maybe that's the answer to the above question: selective memory, aided by blog spinning. This post is the UN-spin!