'Vodka & Caviar'
is the best name for a nail polish. Ever. The Great Sister Trip of 2008 was concluded with a sinus infection and a merciful pedicure with Mum (pink) and Hannie (lime green). I wanted a power red, nothing shimmery, and the name sold me. It was even better on: smooth, vivid red that made me wish I knew how to smoke like a 1920's screen siren, but also looked super-summe
ry with my adorable espadrilles. On my hands it lasted through a wedding, a final plane ride, driving sans headlights and two boxes of snotty tissues before starting to chip. I couldn't find O.P.I.'s Russian collection for sale, but thought I found a pretty good match with N.Y.C.'s
Big Apple Red Creme
(Target, $.99)
. It worked fine for fix-ups, but after I found my shot of Vodka (at
Natural Body Spa and Shoppe, $9
), the differences became clear, most notably in the ease in which Vodka slides on, smooth and flawless. Big Apple's skinny brush clumped. Vodka casts a deep and flawless crimson. Big Apple (right foot) would be fine alone, but next to Vodka (left foot) it has that warbly wobbly look of car repair paint jobs. It's not as shiny, but for 1/9 the cost of Vodka, it still might be a fine choice. Depends on TTC (time 'til chipping). That being said, both hands got a coat of Vodka, just in case the rouge сигарета (cigarette) comes my way.
Incidentally, Moscow is the only place I've ever bought them, or had caviar, or done shots of vodka for that matter. Daddy had me pick up some Russian cigarettes for his secretary back in the sta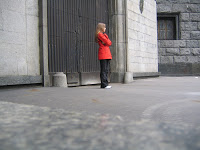 tes, a chain-smoking alcoholic who always had funny/depressing things to say, so she could tell us whether they were as bad as rumored (terrible, she confirmed). I pointed and grunted—my Москва́ m.o.—at the labels in a booth near the Red Square on an August afternoon before heading down to the KGB building, which my guidebook voted 'Best Place to Feel Like James Bond' in Eastern Europe, and where a guard with a gun appeared from nowhere and ran me off for trying to take pictures of myself looking like a spy because photos of government buildings are illegal.
Then I went and had a peak at Lenin. I circled the embalmed corpse with the other tourists, avoiding the Chinese students bowing repeatedly. The morning we left I sat in a corner of the dinning room with champagne and caviar, nutella and toast. "Table for one," I'd told the host, then pointed to the table I wanted—secluded and obscured by potted plants. The first day of the trip I was shy about eating alone, but that got easier after discovering how extremely difficult it was to get anything to eat outside. Pointing and smiling got me nowh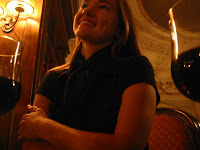 ere at the sausage stand. The ever-present tall, waif-like Russian girls turned away and the guys acted confused. You sell glorified hot dogs. I am hungry. I want a hot dog. How is it possible to lose that in translation?! "Sorry," I'm sure the willow girls were saying outside my native tongue. "Sorry, but these sausages are only for the long-legged and wispy. You, clearly, are broad and gnome-like. Your hair is much too long and you grunt in ways I do not understand. Begone with you, small troll. Back to the subway from whence you came."
I finally got myself a pastry from a booth like the cigarette stand (how did they get pastries in there?) around 4 p.m., showing me the importance of packing it in at breakfast, table for one or not. For the record, I am now a pro at eating by myself, a talent probably started by that morning with the champagne and caviar, enhanced by working the night shift cop reporting in Corpus Christi, and perfected now if need be with my excellent, mysterious nail polish….