We planted a sakura tree in our front yard this weekend, one year after eastern Japan was rocked by a catastrophic earthquake, tsunami, and nuclear scare. I wore a silver necklace with a cherry blossom and a tab etched, "fearless." I've worn it a lot since we left Japan. To say that a year ago was a defining point in our Japan tour would be an understatement. As our eyes opened to the massive loss of life—more than 19,000 killed—just a few hundred miles north, local shelves cleared and the ground continued shaking. We watched a hydrogen explosion at the Fukushima Daiichi plant on TV; Chris asked me to fly home to Texas to protect 14-week-old fetus Isaac, just in case. Chris' squadron flew north to search for survivors and deliver supplies. I could not have gotten to the airport with the cats without Nicole. This week she asked if I remembered sitting on the airport floor, surrounded by fleeing Japanese and expats, exhausted, eating cake pops and sakura lattes (sounds trivial, but we'd been too busy to eat much) and discussing whether we'd ever see Japan again. How could I forget?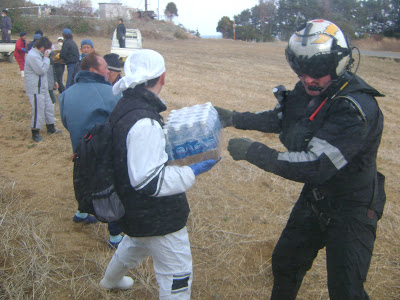 Delivering Supplies with Operation Tomodachi, March 2011, Chris' helo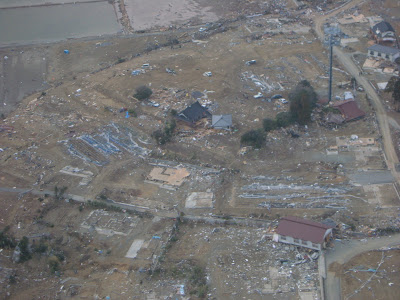 Devastated Tohoku, March 2011, Chris' helo
Weeks later Chris returned to our home and a budding Hikichigawa, where he took all these pictures. The sunshine, the cherry blossoms and the Japanese were out in full force. The sakura is a symbol of mortality and the brevity of life. And year after year, they come back.
"Our predecessors who brought prosperity to Japan have repeatedly risen up from crises, every time becoming stronger," said Yoshihiko Noda, Japan's Prime Minister, on the one year anniversary of the disaster. He continued that he hoped the Japanese people would overcome this difficulty so Japan could be reborn a better place. People all over Japan observed a moment of silence at 2:46pm, as more than 300,000 are still homeless and many seaside cities have yet to be rebuilt.
Last year our church, Life Chapel, collected survival essentials—bottled water, vegetables, noodles—and drove a van north past split roads and through the rising threat of radiation to deliver supplies. Then they did it again. A Japanese friend of mine told me she couldn't not go to the survivors. She hugged a devastated woman who'd lived through the unthinkable: the tsunami ripped her daughter from her arms and left her alone.
Our tiny cherry tree has no buds or blossoms yet. It looks dead. But soon it will turn into something beautiful.