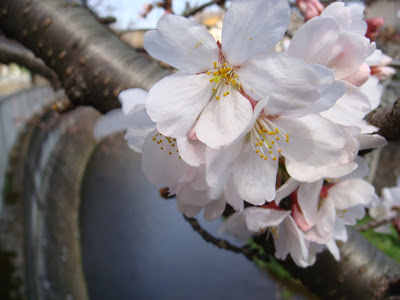 Little teasers, little teasers! Warm weather last week, a bit of sunshine, spring rain that's soft, not biting. Birds, wild paperwhites, daffodils, trees full of big fat heavy blossoms,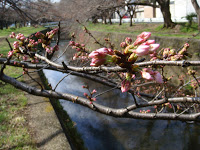 green weeds sprouting everywhere…sheesh, Mari, it's like you've never heard of spring before! Right well, I'm from Texas = hot and no, I've no memory of seeing wild silver bells before. I only know what they're called because I've heard the rhyme…too often converted into "Mari Mari quite contraaaary," which is ridiculous and doesn't even rhyme. SO, when Chris needed the car this morning for pre-deployment stuff and asked if I could walk to base to pick it up when he left, I knew it wouldn't be the frigid walk it was on his last deployment when we got that freak cold snap the day he left. Classic.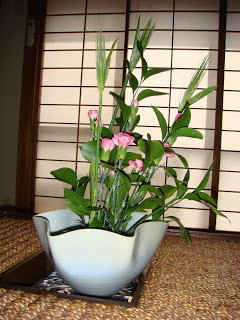 As predicted, it was just as windy but MUCH warmer, and the two-mile walk took three times as long as usual because I kept being arrested by fascinating spring plants I've never seen in person. The sakura (cherry blossom) trees are hinting, testing the air, sending out a couple volunteer blooms to see if they'll stick on despite the wind. Save yourselves, little flowers! The wind is crazy! By the by, Chris had never heard the expression "March is in like a lion, out like a lamb" until I grumbled about how March had better lamb itself out pretty soon. He was confused. Anywho, I picked up the car and got to ikebana class in time to make this lovely arrangement. Ta-da! It took about 15 minutes. How do you like my new bowl? These kids wearing their red field trip hats marched past me while I was photographing some flowers. One of the boys walked past me, turned around and hollered, "Ooooooh! Americajin!!" I spun around and made a silly face at him. He stared at me. Ah, culture exchange.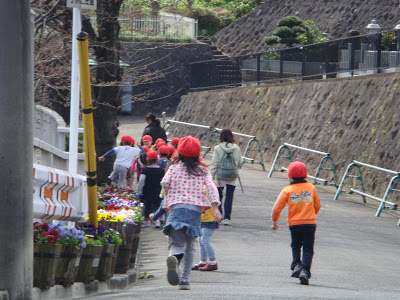 p.s. — please note the addition of a haircut photo to the previous post