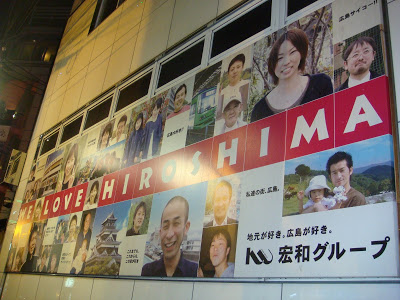 I wrote this post a long time ago, but it was missing something. Right after we dropped Luke and Amber off to go home—literally 15 minutes later—Chris got a phone call to begin the summer's deployments early. This post got lost in the shuffle, and then I lost the piece of paper that had the funny food names written on it. But, symmetrically, when I was overhaul-cleaning the house for Chris' impending arrival home from deployment recently, behold! I found it! And the post is completed.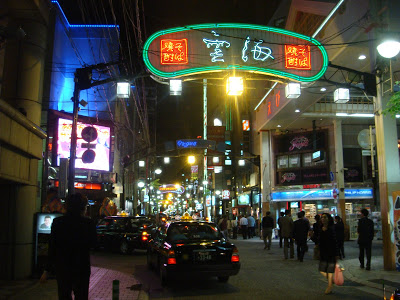 It had been kind of a long day—first the ticket fiasco, then the ticket refund fiasco, then the depression of Hiroshima's history itself…we were all ready for some food and a beer-u. Except Preggo Amber, of course. (Note: this happened last May. By now Amber's given birth and can enjoy beer-u again!)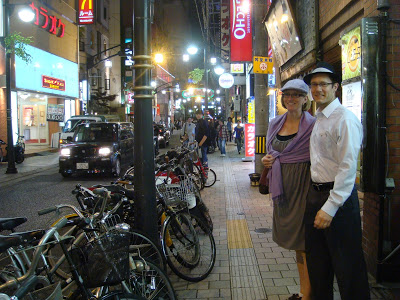 We can read that sign. Let's go in there. So 'Japanese Charcoal Grill, Sweets and Drinks…' it is! We popped our heads in and looked around. "Very Japanese," Luke said. "…Frighteningly Japanese…."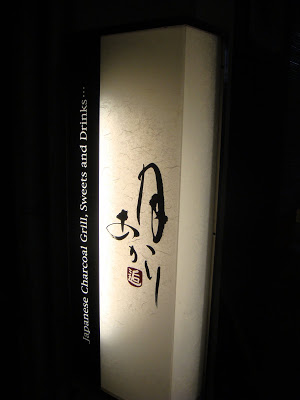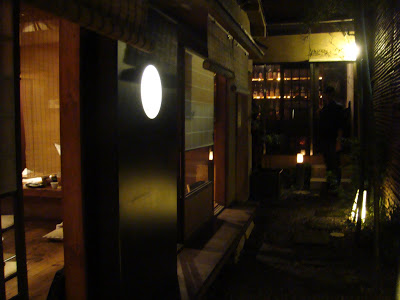 Sometimes places like this don't allow foreigners, but the nice girls at the front smiled and greeted us, then led us to a low table surrounded by cushions with a pit in the middle. She loaded it up with coals. The specials were all in kanji, but the menu was in English. Sort of. Fortunately, "Beer-u wo onegaishimasu!" (Please bring us beer!) is pretty straightforward.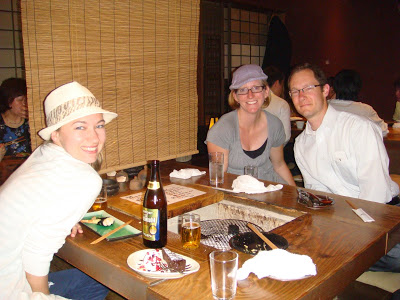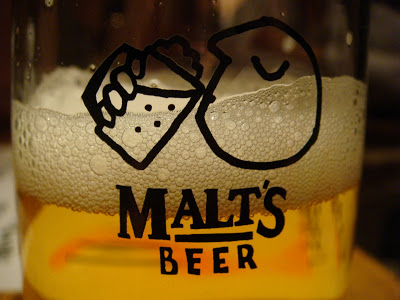 Chris ordered the beef tenderloin with wasabi. I had the Hiroshima red chicken with citrus flavored black pepper. Amber tried the salad of seared beef with smell vegetables (???), and Luke had deep fried tofu and rice cake made from lotus root with Amber sauce because it had Amber's name in the title. Aaaawww! No one ordered the "rice and tea salmon pickled ume with roe and leaf of wasabi." At some point Chris or I got brave and ordered one of the unknown specials—and lucked out! It was a fresh onegiri! My favorite rice triangles filled with shrimp tempura and covered in seaweed. Yum!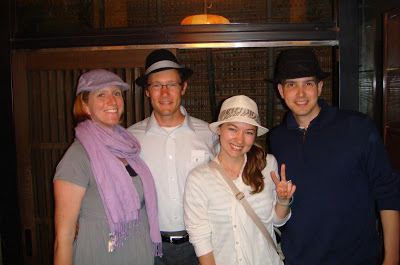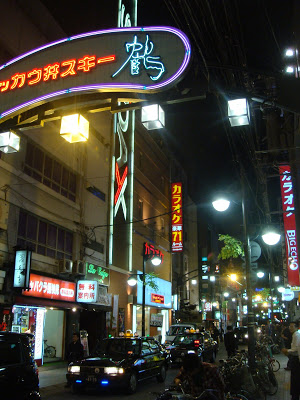 The rest of the food came out raw and we roasted it in the table until done. Fun! It was relaxed and yummy—just what we needed after a long day! Then we wandered through the city's nightlife back to the hotel.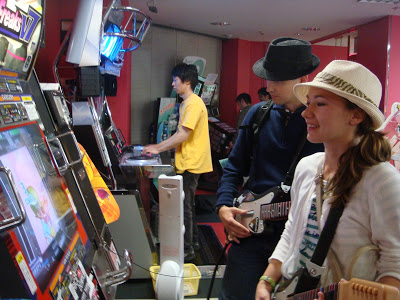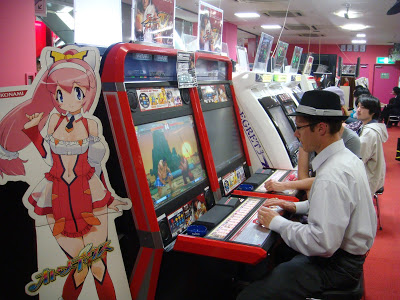 …with a few stops along the way! We couldn't resist watching some of the gaming pros conquering crazy arcade games, and then of course we had to try some. Chris and I worked on our guitar hero skills while Luke cleaned up in Street Fighter.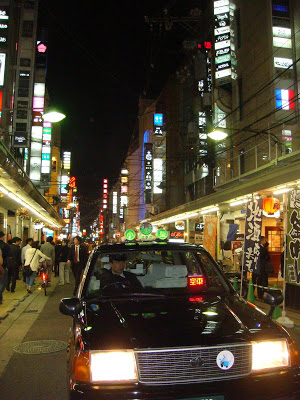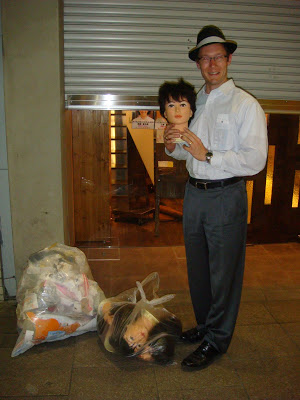 This bag of heads rested creepily outside this haircutting school. Luke decided to bring one with us. Chris wanted to leave it like this but I insisted on leaving it peering out the window so the poor cleaning lady wouldn't have a heart attack.