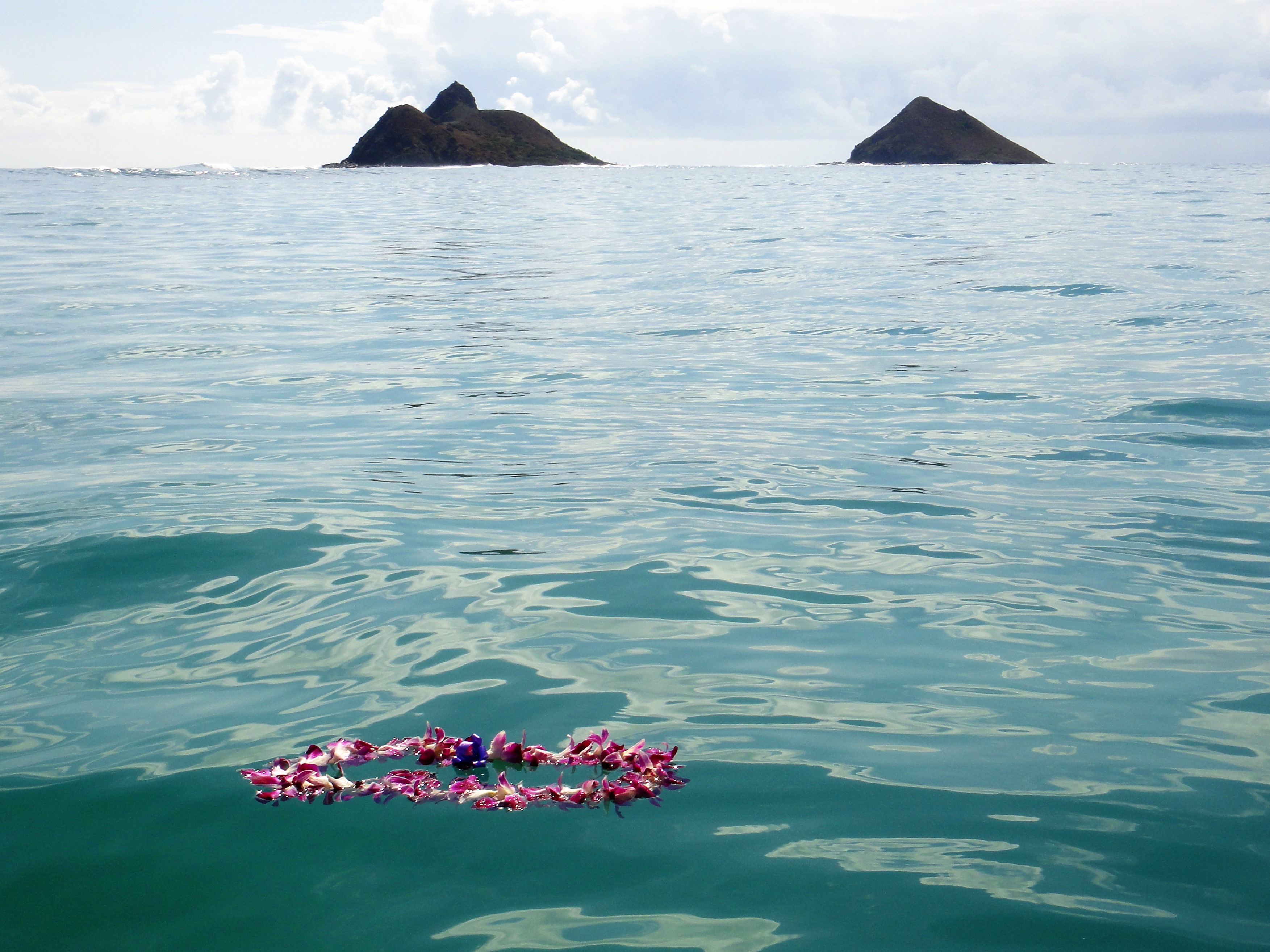 It can be done! Eloise and I paddle boarded from Kailua Beach to Moku Nui, the larger of the Mokulua Islands (in Hawaiian that means twin islands). I would be cautious about doing it with kids again. We went on the calmest day I've seen yet, watched the wrap around waves smashing into each other and blasting on to shore, took our time until there was a lull, and we made it to the leeward beach no problem. Several kayakers later on, however, were overturned and pushed up onto the sand face first. They were fine once they found their footing, but if I'd done that Miss Woo would have been…shall we say…unhappy with me.
We saw a bunch of sea turtles poking their heads up over the swells, a Hawaiian monk seal, a dead centipede on the island, a dead eel in the water, fish, protected birds nesting, a buoy that at first I thought was a coconut or maybe a skull. The wind was still, the water calm. Palm trees waved along the shore and clouds reached down and rested on the tops of the mountains. We paddled lazily from the Kailua Boat Ramp over to Lanikai with half the effort it takes if the wind is stronger. What a great day to be on the water!
But it almost wasn't. Once we got most of the way there I could see some pretty big breakers between us and the islands, but it would calm down every once in awhile. I couldn't see if there was a calmer way around back closer to shore. There weren't many people out at first. Groups of kayakers come through pretty often, but none were there at the moment.  Some other paddleboarders appeared ahead of us and made their way across the reef. I started to trail along their route but the waves were getting bigger and bigger. We were way out from shore, not very close to the islands yet, and the last thing I wanted was to get tossed off my board and lose the Woo in white foam and deep waters near reefs.
Did I mention our friends saw sharks out here? I'm super scared of sharks. I think that's part of why paddleboarding is so fun. I'm just a liiiiiiiittle bit terrified of getting eaten the whole time. Anyway, we floated there for a while, watching sea turtles surface and submerge, watching sets of waves break. The paddleboarders had disappeared, then reappeared, surfing some pretty big waves. Oh. I'm not going to try that will a tot on board. I started to attempt to paddle through during a calm period, when a boat motored up to us. "It's rough!" the woman shouted. "I wouldn't go that way!" That was all I needed to hear. I was so thankful she came along when she did! We immediately turned around and paddled hard through growing mounds of water and went back toward shore quite a ways until we were found a calmer spot more protected by the reef.
That had my heart racing, because you're fine, on glassy green water, no idea how fast you're going, then all of a sudden you see you're going pretty steadily toward several large reefs, and as they loom up from the seafloor—whoa! the incoming swells stack up high and start crumbling, and the water over the reefs goes down—that's the water under you now—and the wave is coming toward you, and your tot is dangling a hand in the water and holding a pink lollipop and she already has a scar on her forehead from that time you failed to prevent her headfirst fall onto the coffee table and reef looks equally inhospitable, and you're paddling fast and trying to keep your balance and move your dumb fanny out of this mess. I mean, maybe you'd feel that way, maybe not, I don't know.
Around this time a group of kayakers had appeared so I was able to follow their route and watch how big the waves were around them. The swells grew as the waves wrapped around the Moku Nui and joined back up. This was the trickiest part but it was ok, we just waited for a lull to rush the last 40 feet to shore, as mentioned earlier.
I was pretty beat and drank all my water. It took us a full hour and a half to get there from the Kailua Boat Ramp! That's about a mile and a half of paddling against the current, but it's half that far that if you launch from one of the Lanikai ocean access points, which is what I would do next time.
Anyway, on island, we saw a whole bunch of wedge-tail shearwater adults, nests, eggs and chicks! The islands are a state protected bird sanctuary to keep the underground nests and fuzzy chicks safe from predators.
We stayed on the island for about an hour. There were surfers to watch, a huge monk seal digging her head into the sand, sand to throw, the standard.
I couldn't take it anymore. I asked the girl standing next to me watching the monk seal about sharks. She had swum over from Lanikai on her surfboard, no big deal, so she seemed like she'd be in the know. She was. She laughed and said there are a few small sharks (maybe six feet) that live about 100 yards offshore the second ocean access point at Lanikai. Some people she knows swim out purposefully to see them because hey, they sleep during the day, so no problem. I am so scared of sharks. Or deep water at all, really. Terrifying.
All at once the water seemed to settle down because the surfers got off their boards and joined all the kayakers swimming in the now-calmish water. This seemed like an opportune time to launch safely, which Eloise and I did, and either the wind picked up or the current was just in our favor, because I paddled through the larger swells back within the reef around Lanikai, then Eloise and I had a snack while we drifted back toward Kailua. Ahhhh, paddleboarding is everything I've ever wanted out of a water sport. My sister Hannah and I used to try to do this on our boogie boards at the pool. It's like a boat, but…not! We made it back to the boat ramp in 45 minutes, which includes me falling off and swimming frantically in pretty deep water with the paddle, a backpack and a straw hat, terrified of losing Eloise as she floated away on her own. "Mommy! Mommy! Are you ok? You fell in! Are you ok?" So in addition to launching from Lanikai I'm going to recommend actually wearing the ankle strap tether.
Back on shore, Eloise and I just floated. It was so calm and perfect on Kailua Beach. Eloise wanted to play sharks (where I hum the "Jaws" theme and grab her legs and she shrieks) so we did until it was time to go pick up Isaac from school.
We didn't set out to go that far yesterday, but how could we resist these perfect conditions, right? The other two or three times I sort of attempted paddling from Kailua to the Mokes, the waves were too rough and it was too windy to make much ground going against the current.
Now you tell me: are you afraid of deep water? Should you name a paddleboard the way you name a boat? What stupid water-related things have you done?