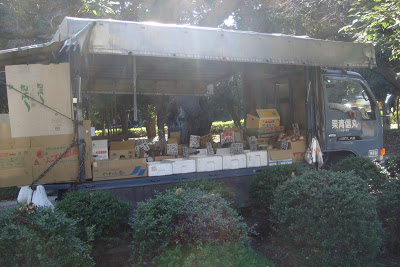 We had a pretty busy weekend trying to get our heads straight.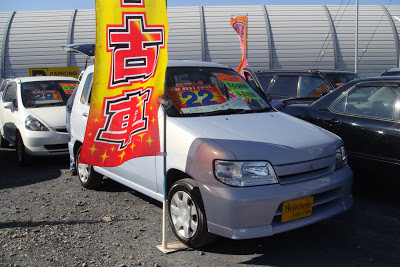 Saturday morning our sponsors took us to look at cars and then over to Camp Zama, a base 15 minutes from us, where the kitties are being held. They weren't happy to see us 🙁 The vet has been closed since we arrived, so no chance yet to fix their botched paperwork or work on getting them released.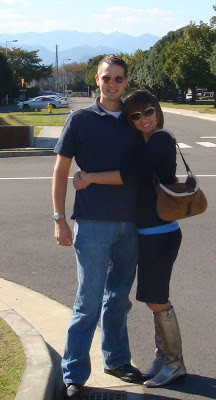 Back at NAF Atsugi we caught the tail end of the Smash Mouth concert.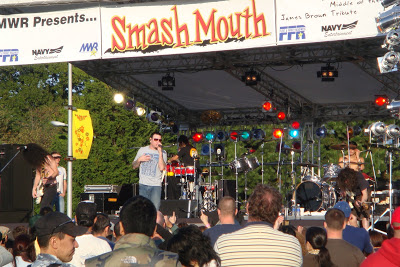 Sunday we checked out the base chapel, then bought a grenade. Construction projects periodically unveil hidden pockets of fine China grenades stockpiled by villages toward the end of WWII. Someone decided to un-bomb them and paint them in tribute to the seasons. Isn't that nice? And a little weird.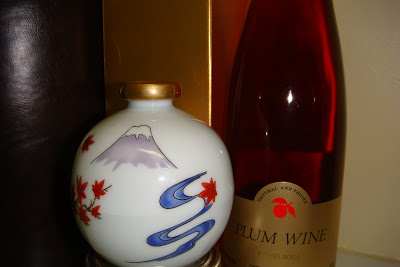 Chris and I had the good idea to find one of the houses we're considering on foot. Someone gave us a lift to the East Gate (view from that gate pictured below), and from there we actually found it.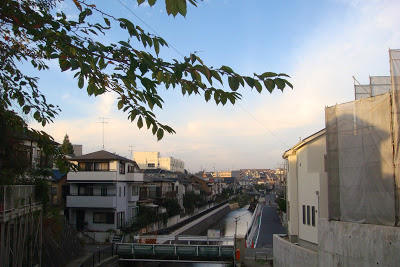 A Japanese realtor who spoke no English showed it to us on Friday coming from a different gate. We found the landmarks and the actual house, then walked back a different way. That took…oh…more than three hours, so I'm bummed that it's so far out of the way. But it's within a 10 minute walk from a train station, so that's something.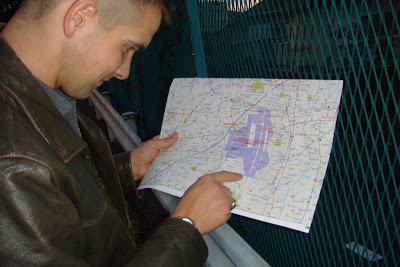 My camera isn't quite working, but I did get this shot of our potential home: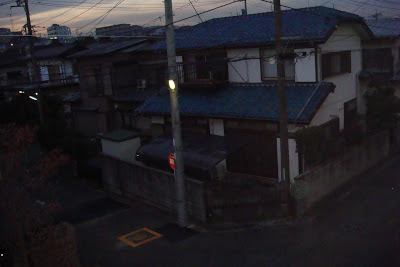 And this is would more or less be the view from the balcony. We took it from the road above, and yes, that's Mount Fuji in the hazy background. We think.

These Torii gates mark the entrance to Zama (below) and Atsugi (below that).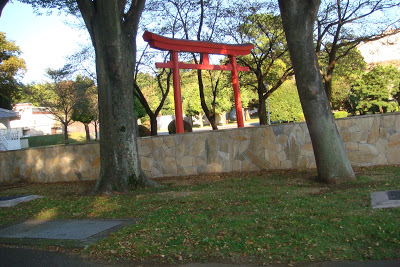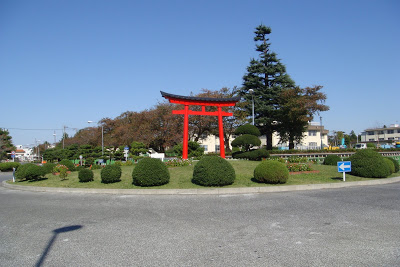 We found this smaller Torii gate on our hike to our house. Traditionally, the gates symbolize the separation between the sacred (as in, by that little neighborhood shrine) and the profane (everywhere else). What that has to do with the base…a little unsure.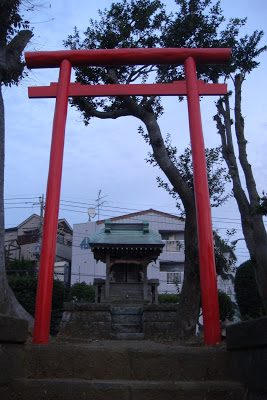 UPDATE (6 p.m. 11/2 Japan time; 3 a.m. 11/2 Houston time): we were told this afternoon we can have the house if we want it—the other couple who looked at it Friday declined. We have a list of pretty much everything coming available in the next month or so and this is really the biggest place that is willing to negotiate with pet owners. It's a five to 10-minute drive to where Chris will work on base (15 minutes to the base shops and classes) AND within a 10-minute walk to a French bakery, grocery store, train station, sushi place and stationery store. The only reason I'm hesitent is because I'm afraid of being kind of left out by all the wives who live near each other on base, where it's easy to knock on each other's doors to hang out when the husbands are (always) gone. We have until Thursday to decide whether we want the house! On base housing has a six- to nine-month wait anyway.