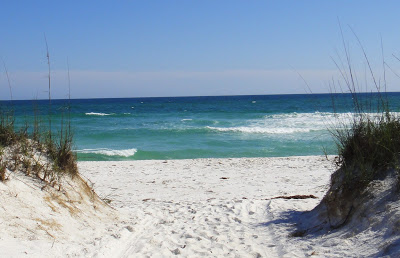 Saturday morning: mulch the flower beds. Saturday afternoon: beach. Let the summer begin.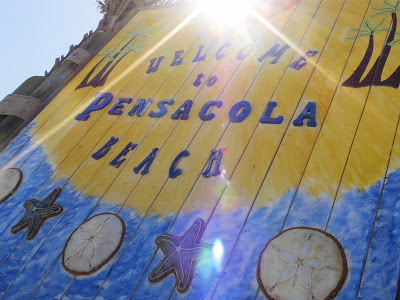 We packed up the jogging stroller and one very small land shark, then waited in line on the overpass with a bunch of tool spring-breakers. That makes us the nerdy has-beens who jog on the running trail before hitting the sand. At least we weren't wearing matched jogging sets. Oh wait.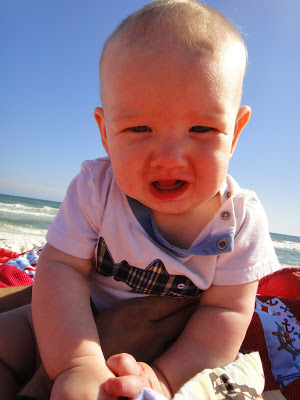 Chris and baby-kins continued into the national seashore; I went back to the Picky Pelican (Chris named my car), alternately taking pictures of dunes and running. After the boys were out of range I noticed the jogging trail ended and Chris was pushing Captain Good Baby along the side of the road. They're fine, I told myself, tromping back to the Pelican. But after a reeeally long time, I could not wait in peace any more. Shouldn't they be back by now, or at least within view? What if they were squished terribly, and here I am with no phone, no keys, nothing but this worthless camera, and no one would know how to contact me, and for all I know there could be an ambulance racing toward the scene of disaster right now—distant sirens fueled me into a bit of distress. I sprinted embarrassingly short distances back and forth to clear my head. There they are! No, it's a biker. Damn dunes, obscuring my view! I started back to intercept them and finally spotted them down the trail: a tall runner, a wailing baby with the sun in his eyes. I did not know I could run that fast that long, but once I saw him I couldn't stop. Amazing. They should have races with crying babies at the finish line and see if crazed ladies can break records. Chris assured me Isaac had only started crying when his baby hat flew off a couple minutes prior. I love how his little baby face fills with a smile as soon as he sees me, like he can't help it. I rigged him up a little sunshade and we jogged back to the car. To the beach!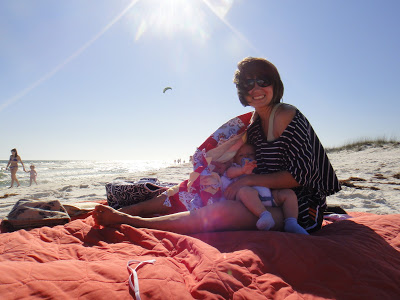 The waterfront was a bit windy for a tiny baby. Would you believe I have no jar of Pensacola sand in my sand collection? I do have a million Pensacola Beach shells though. Hurricanes Ivan and Katrina may have knocked out…well, everything…just before our 2006 arrival, but they also deposited the prettiest shells you've ever seen. Isaac doesn't care.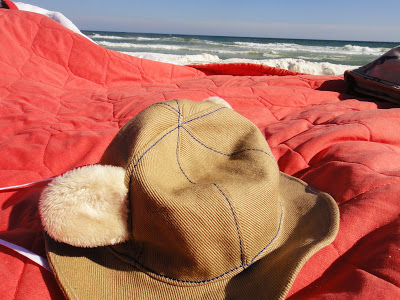 Anyway, we pushed the limits of this tiny baby's patience by stopping by the Pensacola Beach Boardwalk for some SURF BURGER! Finally! Chris got a burger; I got the shrimp boat. New since last time we were here: Pensacola Bay Brewery beer on tap! I tried the seasonal Sawgrass, a refreshing wheat beer. Next time I want to try the amber Riptide. A sinking sun, fading sunlight, the glass-like Santa Rosa Sound, sitting outside with a salty sea breeze, trying a new beer, ordering our old favorites, back with Chris to our old Saturday-at-the-beach date place, introducing it all to our new son—life is good.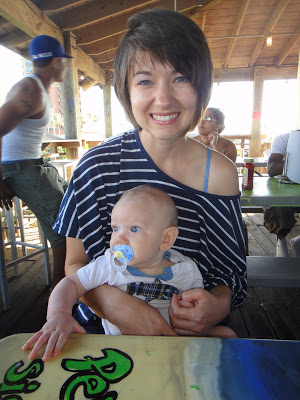 Finally getting this baby some Surf Burger
Now that you want to visit, try to ignore this next picture, which my friend Megan took the same day we were there…the same day Chris went completely under water. These guys caught this 6-foot shark off the Navarre Pier, which is less than 10 miles down the coast from where we were. Thank you, Megan, for making life just a little more exciting.