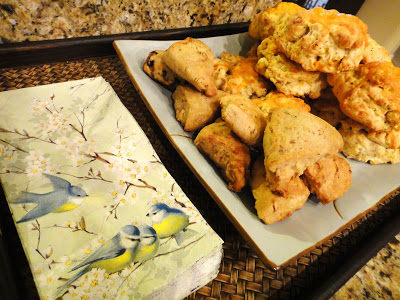 Surrounded by boxes and the detritus of moving a month ago, I said to Chris, "In a bold move, I signed up to host Bible study in March." Chris looked up. "A bold move indeed, Krueger." I finished unpacking just in time for last Thursday; the next day, some Japan friends came over for Friday afternoon tea, too. To simplify, I went with variations on scones: breakfast scones and coffee with fruit Thursday morning, and Lupicia grape tea with grapes and Welsh Cheddar Herb Scones Friday afternoon.
I was really surprised that the cheddar scones were not more troublesome. Maybe that's because I used my new mixer. Oooooo, mixer. Right before the girls arrived Chris popped his head into the kitchen. "Yum! Can I have one?! Mmmmmm, these are even better than those biscuits I like at Red Lobster." MUCH better, thank you. Soon the house was full of baby laughter and tea chatter. Great start to the weekend!
I adapted this recipe from Jane Pettigrew's "The National Trust Book of Tea-Time Recipes." These scones are served in
Penrhyn Castle
, the late Georgian, neo-Norman revival masterpiece, built on the profits of slate quarries and Jamaican plantations. Black ebony furniture and plantain leaves nod to the West Indies, while the tea is served in the light- and mirror-filled drawing room. I haven't been, but it sounds awesome.
Welsh Cheddar Herb Scones
1 lb self-rising flour (I think I figured out this is about five cups)
1 teaspoon salt
1 stick butter
8 oz cheddar cheese (divided)
1 teaspoon crushed dried herbs (I used dried rosemary from my Japanese garden)
half cup water
half cup heavy whipping cream
Preheat the oven to 425 degrees F. Stir everything together one ingredient at a time, reserving 2 oz of cheese. Shape little biscuits and arrange on a greased baking pan. Sprinkle with remaining cheese and pop in the oven for about 12 minutes. YUM! In the future I'll try it with fresh herbs from the herb garden I planted this weekend…but it got pelted with rain this morning and looks kind of bedraggled and sad right now.