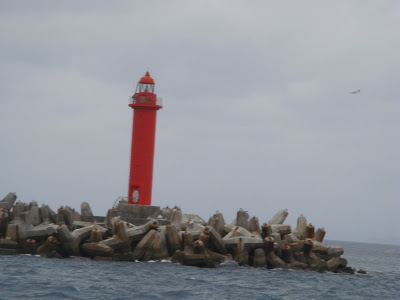 One time on family vacation we went on a two-hour dolphin-watching tour. This was a huge treat because 1. it's expensive to do anything with a family of six, so a fancy boat ride was a treat indeed, and 2. the boat served all-you-can eat donuts!!!!!!!! Plus, if you were the first person to see a dolphin you got to yell, "Thar she blows!" and won a free hat or something, so we ran from side to side and up and down the deck squinting at the water with our hands at our eyebrows in the 'lookout pose,' then ran around to do it again somewhere else. That was so fun! I don't remember any dolphins, come to think of it.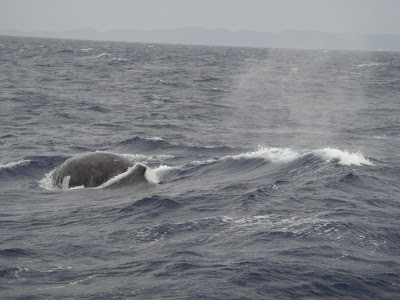 This wasn't as fun as that because I probably would have been thrown overboard if I'd yelled, "Thar she blows!" at a boat of strangers, but I did see a bunch of humpback whales. This is the end of the humpback's mating season in the warmer waters near Okinawa, so I'm glad I caught the end of it. First I saw a tail in the distance, then a blow and a whale back. If the captain saw something the boat would lurch into motion with no warning. I thought that was great fun. The girl barfing next to me did not.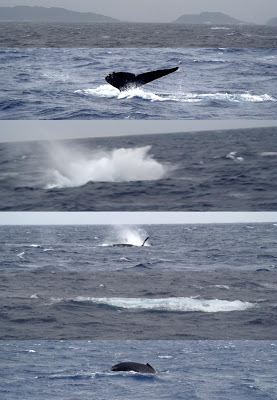 The boat zoomed past islands and whales puffed and stuck their tails in the air every 10 minutes or so. The captain would head right toward anything he saw, bringing us really close, which was cool but a little scary once we saw several whale breaches. Yikes! They'd soar up and out of the water and crash back down, leaving a turquoise oil slick against the deep cobalt of the rest of the water. I was looking at the whale tail photo I took when suddenly from out of the blue (ha ha, literally!) a big, barnacle-encrusted humpback hung suspended over the white caps and foam. Whoa!!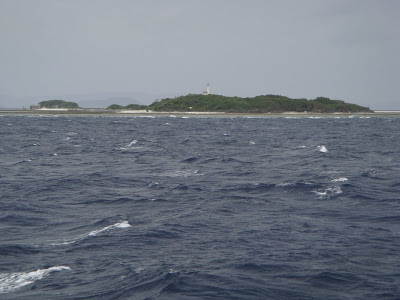 Japanese whale-watching boats aren't allowed to use radars, so the boats' pilots radio each other updates and the pod of tourists above the waves chases around pods of whales below. Every time we'd pass another boat of tourists in florescent orange life vests we'd all wave to each other. This was funny because it reminded me of when Hannie and I were crossing the Thames and waved to a tour boat, then kept doing it because everyone on board waved back enthusiastically.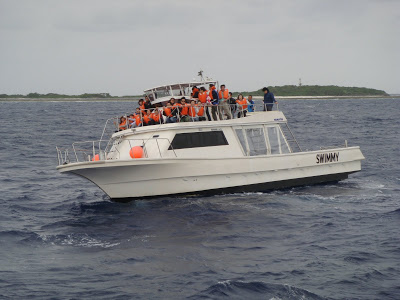 I'm pretty sure I'm too cool to wear an ugly orange life vest, but I had to wear one anyway. This ended up being good because it helped protect my jacket from the waves and spray that splashed up over the passengers on the fast ride back to the dock. Now whenever I touch my face or neck I'm all gritty with salt.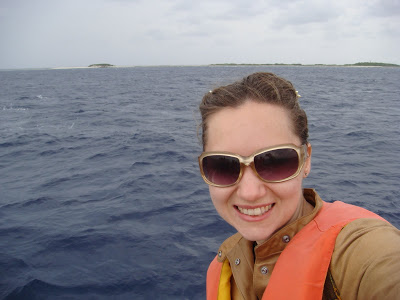 Look at this last whale picture—you can see his blow hole!