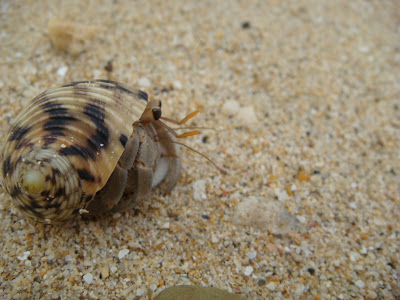 Louis: "What brings you to Casablanca?"
Rick: "My health. I came for the waters."
Louis: "But there are no waters in Casablanca."
Rick: "I was misinformed."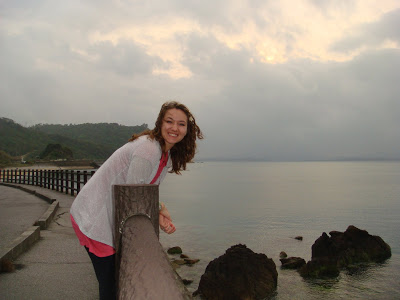 This conversation would be appropriate for my situation if you subbed in "space A flights headed east," instead of "waters." So far I think I'm at six flights either delayed or full. Every time a flight gets canceled I'm sent scrambling to find the next flight out and figure out how to get from there to San Diego. The flight to Hawaii that would let me catch the flight to San Diego was delayed. New plan: take the next morning's flight to San Francisco and buy a commercial flight to San Diego. That got flight delayed two days, but there was another flight I could take there and even a hop on to a base close to San Diego. Canceled. And the flight to Hawaii this morning similarly disappeared, but one with 50 seats opened up for this evening. So the good news is I'm getting really good at this tentative web-style planning and figuring out what might work if only I can get off this island.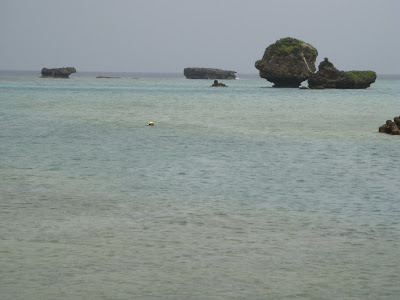 But the Casablanca conversation as is isn't accurate at all. There are plenty of waters in Okinawa. This is an island after all. So the retired couple, who don't have Japanese drivers licenses, offered to rent a car for us if I would drive. And we headed up the coast!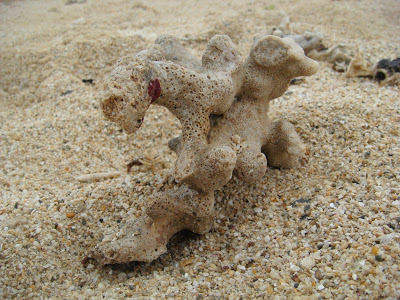 Highway 58 hugs the west coast of Okinawa all the way north. The weather started off dismal but cleared as we drove, shining a little light on the shimmering topaz water and stark, black rock formations. Isn't that lovely? Let's pull over and say hello to the hermit crabs.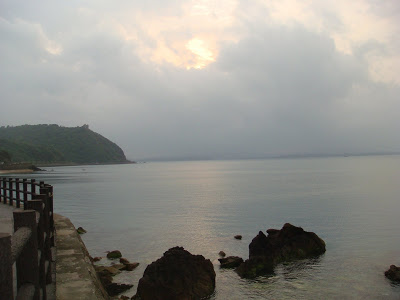 We found everything we were looking for: a pineapple winery, glass factory, old castle ruins and a military recreation base on the tip of a peninsula next to the swankiest resort I've seen here. Long stretches of bleached white sand and no sound but the crashing of waves on both sides. After sunset the storm broke as if it'd been wating for the cover of darkness.