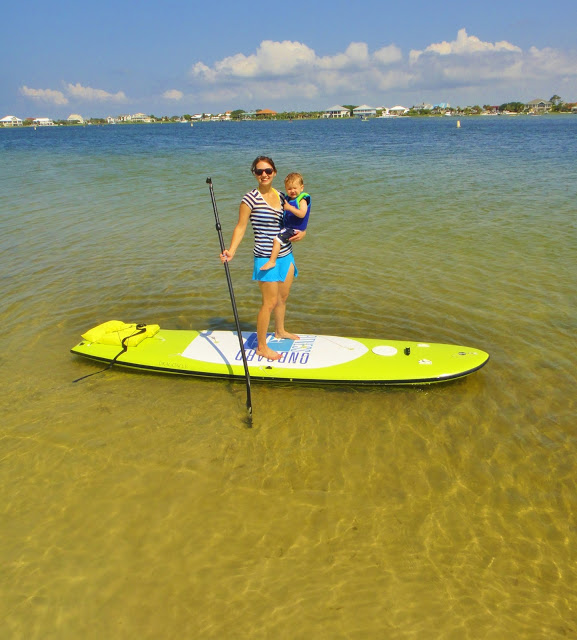 Not much, just paddle boarding with a tot
Mommy and Me Stand Up Paddle Boarding (SUP) Class! You know we signed up immediately!
Captain Goodbaby did not mind getting hosed down with sunscreen. He did not mind his baby life jacket. He immediately waded into Little Sabine Bay, the bay off to the right as you come onto Pensacola Beach. Speaking of coming onto the island, I did not have $1 for the toll. The toll lady was annoyed. She rolled her eyes at me and told me to bring $2 next time.
Anyway, as soon as I put the Goodbaby onto the paddle board, he started fussing. He fussed all the way out to the sandbar for games. He was ok when I held him in the water, but when it was time to get back up on the boards, he all out lost it—panicking, screaming, crying. Whaaaaaat? He just kept pointing back toward the shore. The wind was tricky and kept blowing us around, but the real problem was the Goodbaby's increasing panic. He kept trying to climb/jump into my arms. He would stop crying if I kneeled and took him into my arms, but in seconds the wind would blow us yards further down the shoreline. Docks stuck out into the bay far enough to keep us from being able to hug the shore for wind protection. It was difficult.
One of the instructors asked if we needed any help and I said no. Ten or 15 minutes later I regretted that a lot and wished I had a whistle to blow to get rescued. That was around the time—in the deepest part with the strongest wind/splashiest waves—the good Captain tried to push himself feet-first into the water. Flailing, jumping, screaming, drifting…finally he curled up, face down, and hung onto my legs while I forcibly maneuvered the board against the wind and waves back to the dock. Once it was over, Captain Goodbaby giggled and splashed, chasing minnows into the sea grass in the shallows. Sigh.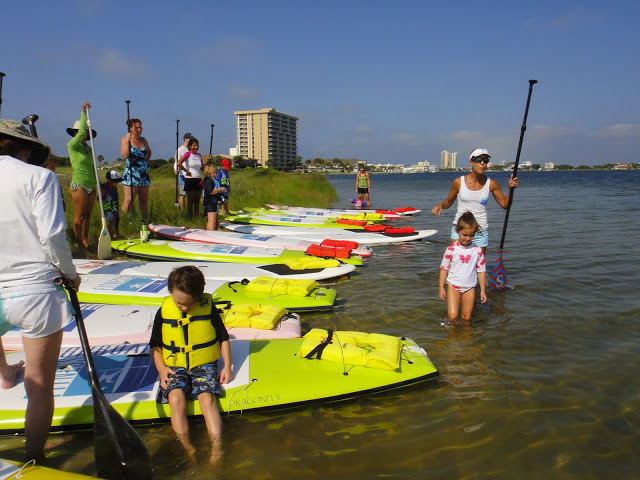 It looks so easy!
One lady got blown to the far end of the bay, left her board and walked back. Her five year old son told me later he wasn't afraid of anything but sharks. His mom added, "Weren't you crying on the paddle board?" "Yeah!" he said. "Ok, I'm afraid of sharks, and paddle boards a little."
We all went to lunch at Peg Leg Pete's afterwards, where the instructor admitted the wind made it more difficult than she expected. She encouraged us to try it again with calmer winds (and maybe an older Goodbaby). It's aaaaalmost enough to make me want to try it again sometime. Maybe next summer.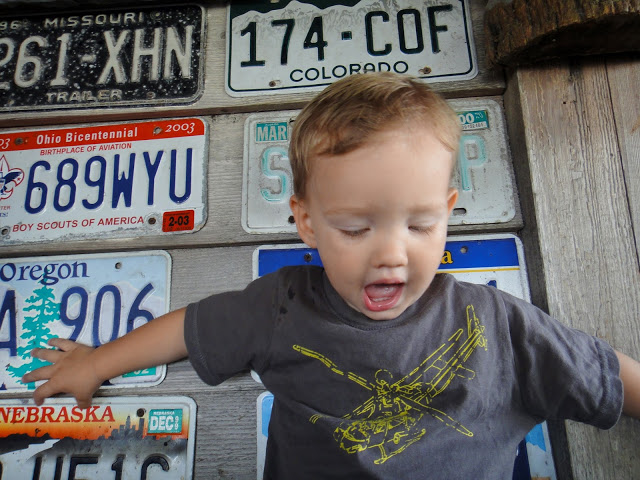 Happy at lunch