Captain Goodbaby threw a MASSIVE tantrum at the drugstore. I was getting a flu shot at my doctor's insistence, to protect the Goodbaby. "We really don't want him getting sick this year, so soon after his surgery. I've got five vaccines for kids at high risk, and I want him to get one." What? Is he still high risk? I had gone back to thinking of him as perfectly normal. This was a little sobering, so off we went for my flu shot.
DUMP!
The rubbing alcohol smell and the needle completely freaked him out, despite my explanations that this was for Mama. Usually he totally gets that. Not this time.
SCREAMING!!!! MORE SCREAMING!!! LOTS OF PEOPLE LOOKING AT US!!!!!!! And I am having to wrangle him while getting a shot. That was pretty terrible.
We got in the car to go directly home. On our way, we passed the peanut field, the one that grew cotton last year. TRACTORS!! We pulled over, opened up the hatchback, and had juice. Helicopters buzzed overhead, practicing auto-rotations into Spencer Field. The tractors dumped their peanuts into bins, which dumped them into an 18-wheeler. "DUMP!" squealed my tot each time. "DUMP! TRACTOR!"
I never knew I would end up with such a soft spot for tractors.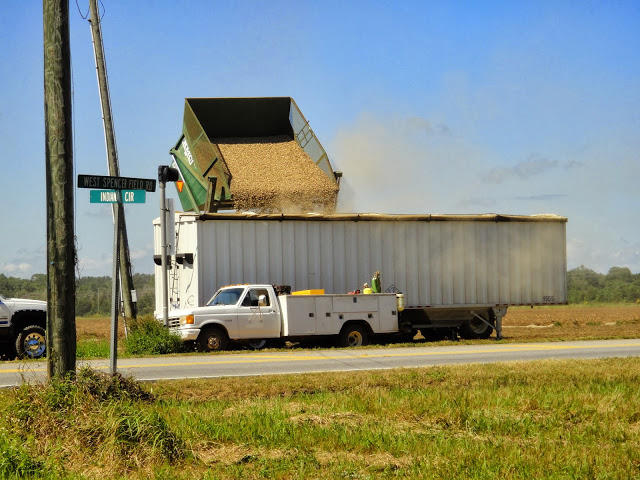 DUMP!!
On a side note, I had a thing for honey-roasted peanuts on the night shift at the newspaper way back when. I taped the newspaper title banner around the side of the tin and taped one of my articles on top, then sharpied over it, "We work for peanuts!" My editor did not think that was funny.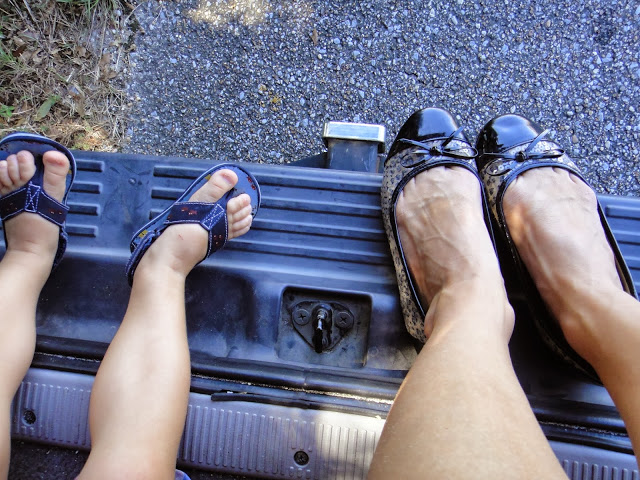 peanut gallery