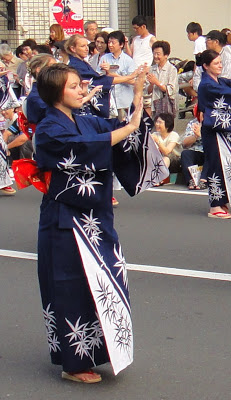 The Tokyo area is not famous for Awa Odori dancing; that distinction falls to Tokushima Prefecture west of here. There, it's a HUGE deal. But here's it's still a big deal, and the biggest Awa Odori festival in the Tokyo region is—surprise!—the July 23-24 Yamato Awa Odori Festival!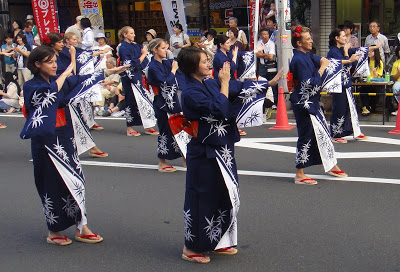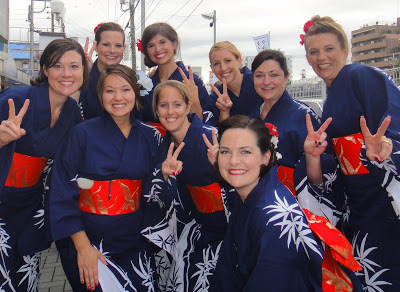 This is the red, white and blue-clad American Bon Odori dancers' first opportunity to put our mad dance skills to use. Practices run weekly all summer in an unairconditioned gym. We do some of the same traditional dances every year, so even though I arrived back in Japan halfway through practice season and only caught two practices, daijoubu—it's ok. The HSL-51 ladies banded together to form a nice parade block. We like to represent!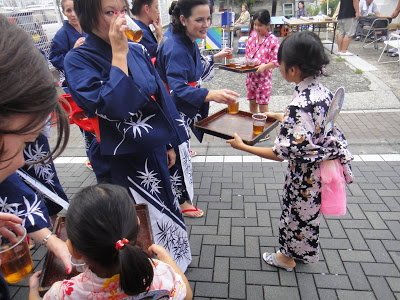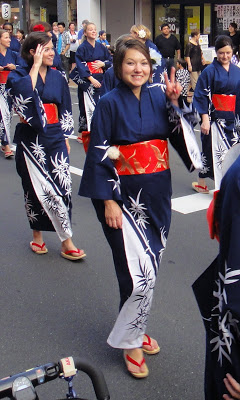 Little girls came scurrying out with cold barley tea—ah! So refreshing. Thankfully it wasn't quite so hot since the typhoon brought in a little cool front. I remembered these same girls in their summer yukata serving us cold tea last year as an Awa dancer.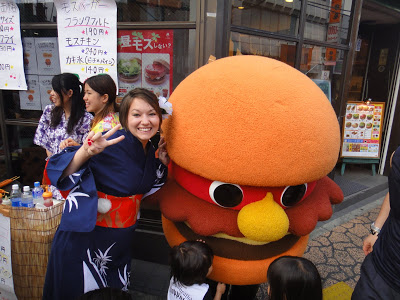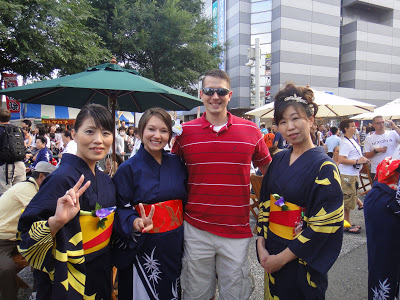 Our parade route is short, just an hour and a half of walking slowly and waving our arms around (gracefully). Chris got to see the festival for the first time. Some of the AWA (Atsugi Wives Association, the wives of the JMSDF officers) spotted Chris and asked to pose with him. Luckily, our brief parade route managed to cross the rather lengthy route of the JMSDF Chidori-ren Awa Odori dancers, so Sarah, Brittany and I gathered around Rebekah for a photo.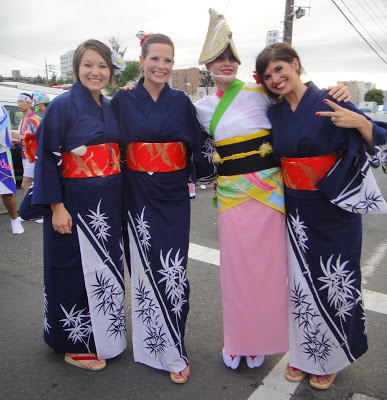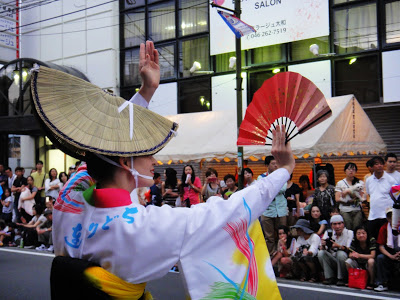 Someone doing Awa Odori for the first time this year asked me when I visited a practice this summer, "Do you miss it a lot?" How to answer…how to answer…"Yes and no…." I said. Dancing Awa Odori was probably the coolest thing I did in our three years here, and I am so glad I did it. Maybe I never learned Japanese, but darn it all if I didn't learn some traditional Japanese dance! That being said, I am so glad I was not doing it this year! Maybe it's the heat, or maybe it's being round, but shoot, it took me two weeks just to blog about this festival. I feel like I expend twice the energy to just get half done with anything. But if I had danced this year, I wouldn't have needed to pad out my waist with towels! Ha ha.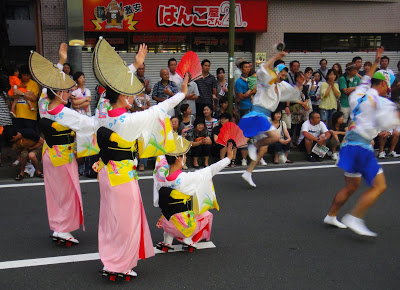 This happened a lot last year, and this year too apparently—vigorous dancing resulting in broken geta. These dancers mean business! Speaking of meaning business, shout out to Rebekah: she was selected to be one of the featured dancers this year. That's amazing! Way to go, Rebekah!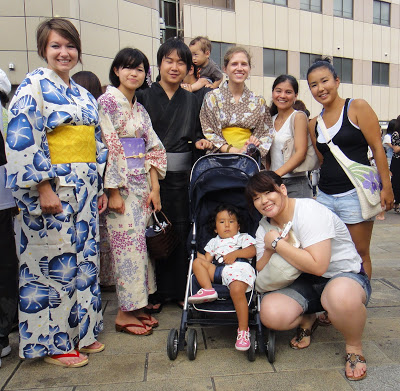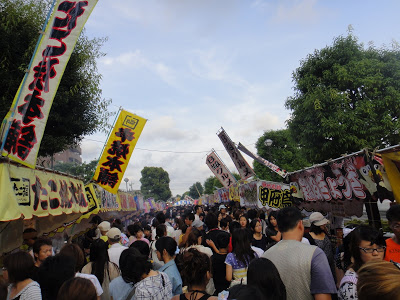 Sunday afternoon Chris and I returned to the festival with friends from church. For the first time I got to see the food and game booths on the main promenade off the street-side parade route. We saw Japanese people selling American food (questionable), a turtle-catching booth, chocolate covered bananas, okonomiyaki, plastic robot masks, lots of balloons shaped like those big beetles with horns and—what I was after—Japanese sno cones. I will take one of those at pretty much any opportunity these days! We also bought a furin wind chime. In the summer, the delicate tinkling of the furin—literally 'wind bell'—lets you know the wind is blowing and makes you feel cooler. Maybe one of these days…. Anyway, happy Awa Odori festival! You can next catch the Bon Odori and Awa Odori dancers at the NAF Atsugi Bon Odori Festival August 20.