Today was it….the festival I've been dancing for all summer! We met on base in the gym so some nice Japanese ladies could dress us all in our yukata (summer kimono). Then we rode a bus over to the Yamato train station area to PERFORM!! We shuffled along to the parade area in a single-file line, doing the kimono-waddle that made me feel like a kimono-ed duck.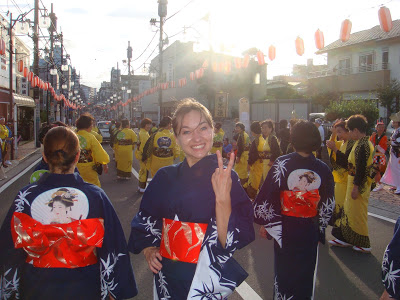 Japanese ladies in yellow kimono fell into rank ahead and behind, with our bold navy kimono oreo-ed in the middle. We did a few of our most-practiced Bon Odori dances. It was harder than I expected—I thought I had my footwork down, but then I'd see all the Japanese ranks ahead stepping in time and realize I was on the other foot, so then I'd try to get my feet to line up, and my hands would forget what to do, so I'd just worry about the hands because that's probably more noticeable, but then it seemed like people on the sides of the road were more murmur-y. That was probably in my head, but you never know: "Crazy gaijin! Her feet are all wrong! How silly she looks, out of step with the authentic people! Who let her in the parade?!" But after it was all over we didn't even have time to pose for pictures before the lady in charge was hollering for the Awa Odori dancers and off we went!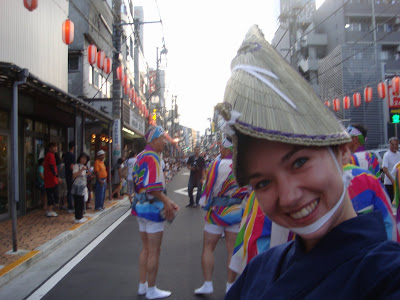 Awa Odori is the dance we practiced THREE times a week. Ok, I only went twice every week, but that is a lot of two-hour practices for one dance!! The Japanese Maritime Self Defense Corps (JMSDF) that shares NAF Atsugi is renowned for its Awa Odori dancers. Last year they were specifically invited to be the finale of the Yamato parade! So they invited us to volunteer to practice a bunch so we could dance with them without embarrassing their reputation. I am not sure we achieved that goal, but oh my did we have fun tonight!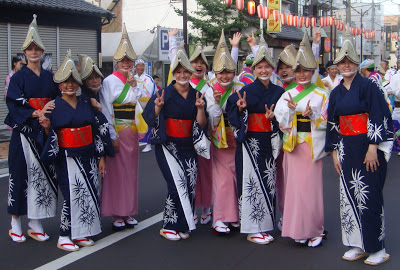 Hey Mari, why are you wearing those silly taco hats?! Thanks for asking. The talented ladies in pink traditionally wear them for Awa Odori. I asked if I could get one for fun…or future Halloween costumes…and then some other dancers expressed interest in them. Against the protest of Certain Dancers Who Shall Not Be Named, the wearing of the hats prevailed.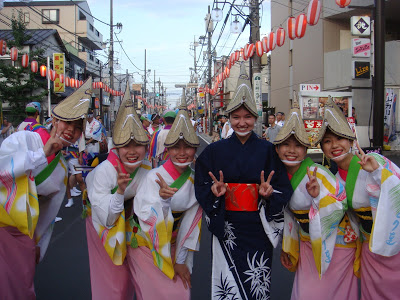 And then it started. The drums boomed, the flutes screeched, we got into a pose. "A yatto saaaaaan!" the leader cried. "A yatto yattoooooooooooo!" we all answered, signaling, "I'm ready!" although it doesn't actually mean anything. Then we danced into the staging area, pealing off to the right after the second, "A yatto saaaaaan!" and corresponding, "A yatto yattooooooo!" so the talented ladies could perform.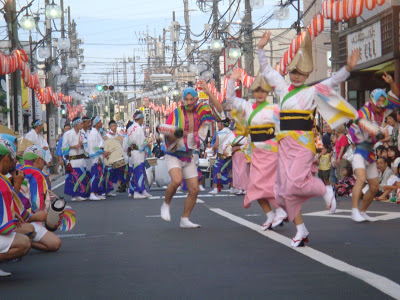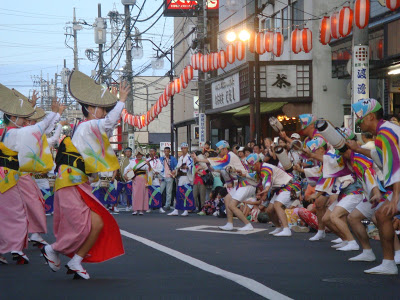 They are wearing the traditional stilted wooden Japanese shoes, which they angle to where they dance only on their toes. They spin and dip with the boom of the drums and sometimes they must be levitating. They look so elegant and light! Then at the end we all rush back to the staging area and dance off before returning for "free dance," where we try to engage the crowd. Guess how well that worked. Predictably, we had more and more success the later it got, and of course kids were our main dance partners. Although I think the taco hats freaked them out a little.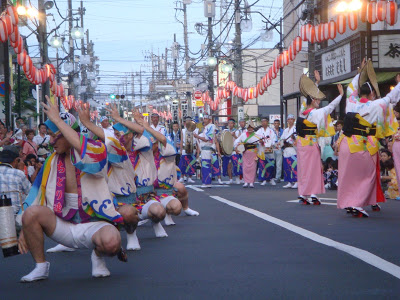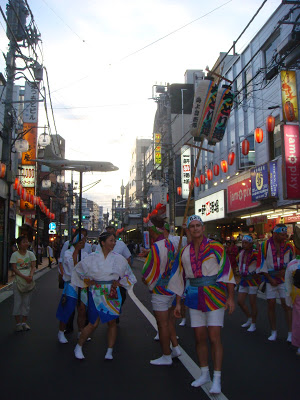 A brief stop for cold barley tea with an available restroom greeted us after a few dances. I asked our lady in charge if I had time to run to the restroom after we'd been there awhile. She assured me I did. When I came out, the waiting area was completely empty of the hapi coats and summer yukata that had filled it moments earlier. Shoot!!! I ran to the corner. Nothing. I ran back to the waiting area. I frantically looked all around. Nothing. I ran up to a guy in a bright blue Yamato Awa Odori shirt and held my arms out. "Where are the people who look like me?!" I asked. He looked confused. "Where is your team?" he asked. "I don't know!!" I said. His eyebrows shot up and he fired questions at me in Japanese. My eyes got big. I pointed to my yukata and said, "That way? Or this way?" "Ah!" he said. "Straight ahead that way!" "Arigato gozaimasu!!" I said, sprinting off in the direction he pointed. Way up ahead on the other side of an intersection I saw some wives of JMSDF guys I recognized from wives' events. "Sumimasen," I apologized, "Have you seen the others?" "EH?!?!" said the lady I knew, whose husband was one of the lead male Awa Odori dancers. "That way! Straight!!" "Arigato gozaimasu!" I thanked her, sprinting on. I finally caught sight of a navy yukata as it turned into a parking lot and disappeared around a wall. Run, run, run. Out of breath, I finally caught up and made my way to the other five people dressed like me for this dance.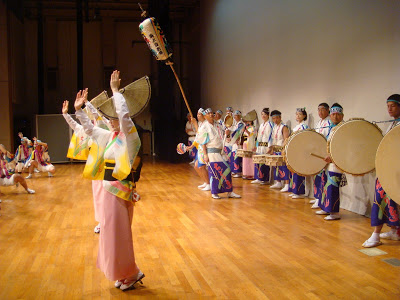 I cleared my throat loudly. "AH-HEM!!" I said to the lady who'd told me I had plenty of time to use the restroom as she was talking to the lady who had said hi to me IN the restroom. She turned and said hi. "So I come out of the bathroom and the waiting area is EMPTY!!" I said. Everyone looked at me: "Oh my gosh! I'm sorry!" "How did you find us!?" "That must have been kind of alarming!" "Oh sorry, I saw you in the bathroom and forgot!" "You need to fix your hat; we're about to go on stage inside."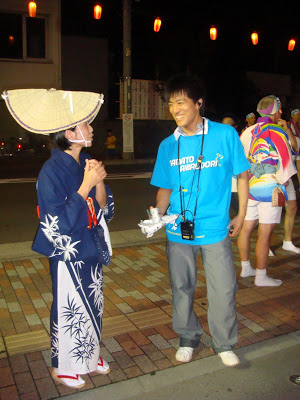 I told them about the blue shirt guy who saved me. Later we saw and thanked him. All alone at a festival in a funny hat?! That WAS scary! I knew I could easily take the train home, but I really didn't want to miss the rest of the dances!!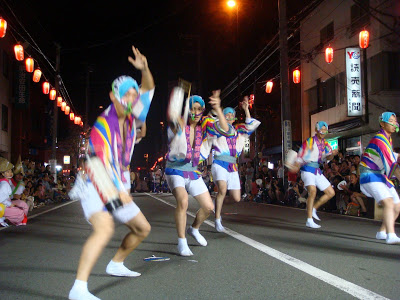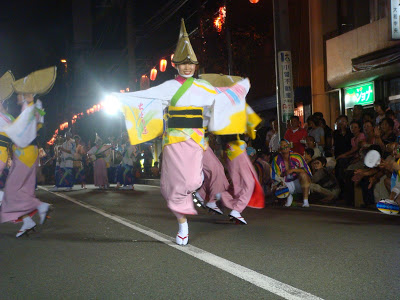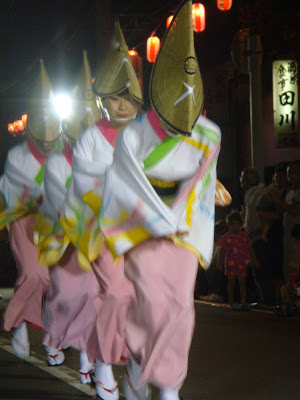 The festival continued into the night. The crowds got more festive, the cheering got more boisterous. The steps became easier. The hat stayed on better.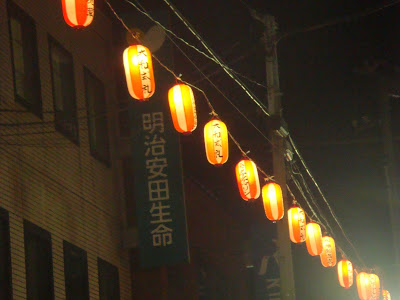 I sat Japanese-style on my feet in the blocked-off street in central Yamato watching the girls' fan dance and the guys' lamp dance for the fifth or so time, and the breeze was blowing, catching our hats and rifling the lamps lining the street, and I thought, "Whatever I was doing a year ago, I would never have guessed that in one year I would be dancing a traditional Japanese dance in the middle of Japan on a hot summer night in late July. I will never forget this. The smell of grilled chicken skewers and roasted sweet potato, the lamps swinging, people clapping in time to the drums—I will never forget this."