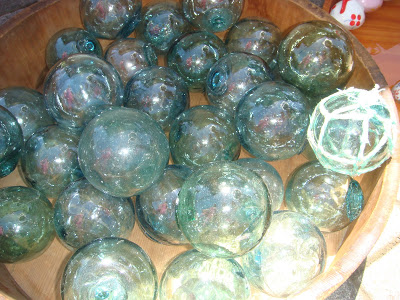 The third Saturday of the month is my favorite thanks to the Yamato Promenade Antique Market! I've always heard it called the Yamato Shrine Sale or Open Market, but the other day I stumbled on the official website. Turns out it has a real name.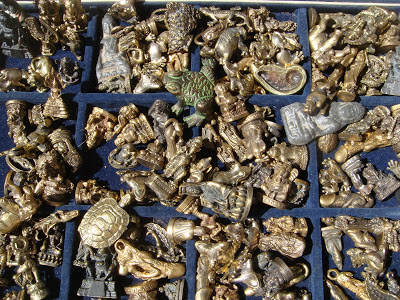 Anyway, this is my and Chris' favorite place to browse and shop. When he's out of town on market days he inevitably emails me, "So did you go to Yamato? Did you find anything cool?" Past purchases include: a WWII Japanese bayonet, vintage scrolls, handpainted beads, pre-WWII postcards, a two-ft tall pagoda, iron teapots, sno cones, ranma, obi hangers and obi, kokeshi dolls, trays….and that's not even including all the shopping we do for Ichiban Collectibles. What's most fun about that is sourcing antiques from our area and bargaining down the price or buying in bulk so we can still offer low prices. Then people can find neat stuff while raising money for scholarships!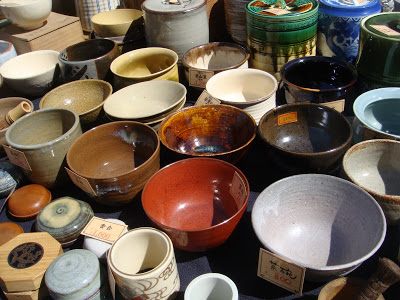 They have these heaps of second-hand kimono all over. I like to kneel down and just slowly paw through them, pulling out the interesting patterns one by one and checking for stains and tears. Often there are very good bargains here. If nothing else, the market has tons to look at and it's fun to ask the vendors, "Kore-wa nan desu ka?" or, "What's this??" I hear Japanese people asking that all the time.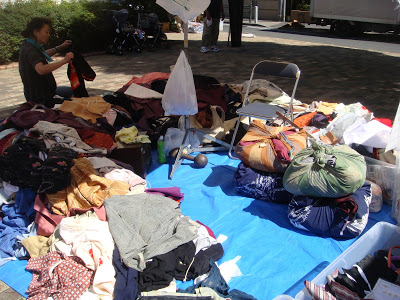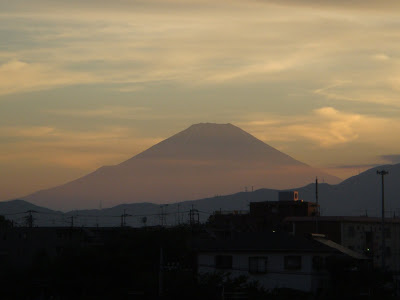 I got tons of really cool kimono for Ichiban, came home, watched a beautiful sunset behind Mt. Fuji, then got to work. My first order of business was to modify a silk kimono I bought this morning. I had the cute idea to un-sew the sleeves of a kimono, leaving little cap sleeves, then shorten it to an above-the-knee wrap dress. All the good sew-ers I know agreed this would be a little complicated what with the lining and the cut of the fabric. Then today—for the first time—I found a kimono in a beautiful navy silk with black flowers that was the perfect length. The lady wanted Y2,000, but as I stood there contemplating she said, "cen en, ok!" and let me have it for about $10. The sleeves came off easily, I wrapped it around my waist, added a wide black belt and voila! Cute, right?? I'll need to wear a slip with it since the sleeves hang open, revealing the very cute pattern of the liner. A few weeks ago I told some of my English students about this idea and they giggled and said, "Maybe you could wear this…outside Japan." But this pattern is a little less traditional so maybe I can get away with it.
Then I arranged the glass floats ($2 each) onto the carved Indian pedestal bowl with brass inlay ($5).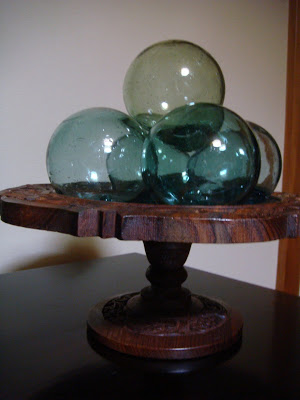 Then I set up my favorite purchase—a Showa-era metal temple lantern! I read about these before I moved to Japan and thought, "Wow, that's the first thing I'll look at when I find the markets!" I've only seen them on one other occasion, and this one was a lot bigger and a better bargain than those. A pillar candle or tea light goes behind the cherry blossom metalwork. I'm not sure if it will stay there on the step tansu, but for now I kind of like it! All-in-all, a very successful visit to the Yamato Promenade Antique Market!!