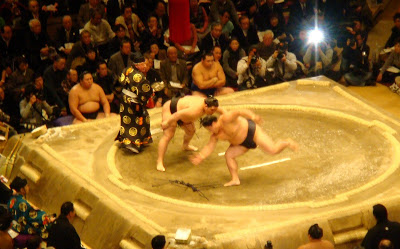 They really did the lift-one-leg-and-stomp thing (to drive evil from the ring)! These enormous fellows were ready for some serious sumo halfway through their January tournament this evening at the Ryogoku sumo arena in Central Tokyo.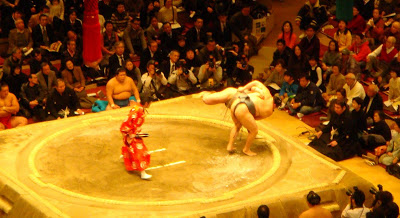 Japanese men have been dressing in loin clothes for half-naked wrestling as part of ceremonial banquets celebrating peace and good harvests since the Nara Period (8th Century). In fact, legend has it that Japanese people won Japan when their god Takemikazuchi beat a rival clan's god in a sumo match. But back then sumo was no-holds-barred—the modern rules developed under the patronage of the Imperial Court during the same period.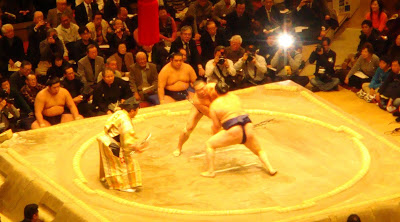 The sumo ring, or dohyo, is made of clay and covered with sand. Then the sumo wrestlers come in, face off, fall back to their corners for fat-slapping, face scrubbing and salt gathering, then return to the ring and toss salt everywhere to purify it. They raise both hands palm up to show the other they carry no weapons, then do the aforementioned raised-leg-foot-stomp to drive away evil, face off…and go back for more salt. Usually the third face-off results in a charge. The round is over as soon as any part of the body touches the ground within the ring, or any part of the foot or body touches the ground outside the ring. Each wrestler fights once daily in the 15-day tournament.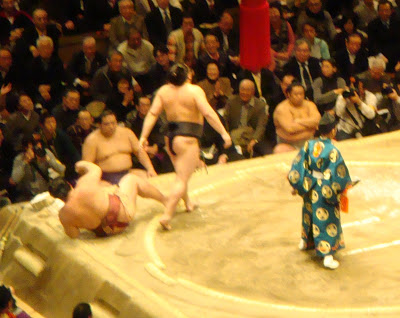 One guy got picked up and dropped over the edge of the ring and fell off the stage completely. Another wrestler waited until his opponent lurched toward him and jumped aside, propelling the lurcher's jiggly mass into the crowd! And in one match where both men wore the same color loincloth so I couldn't tell them apart, they leaned each other over the edge until both their meaty backs thumped to the ground at the same time, and the crowd went wild! I'm glad we were seated far away…when those guys get angry and turn pink, they turn pink all over.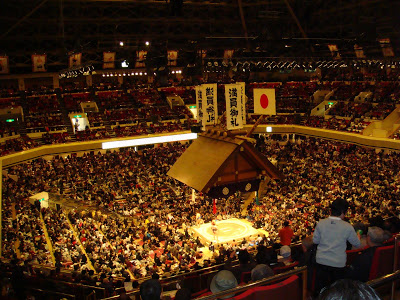 Before the final match advertisers march around the ring carrying banners. My favorites were one that simply said, "Yes!" and of course the old school banners sporting a McDonald's logo. Can't break away from that capitalism….but we can't talk; we had McDonald's for lunch today! Then after the surprise finish where someone was dramatically hurled from the center ring, the crowd went wild and threw their seat cushions at the dohyo! This happens after an upset or a bad call. Then everyone left while a man in a loincloth and apron performed the traditional bow dance (as in bow and arrow). Good show!